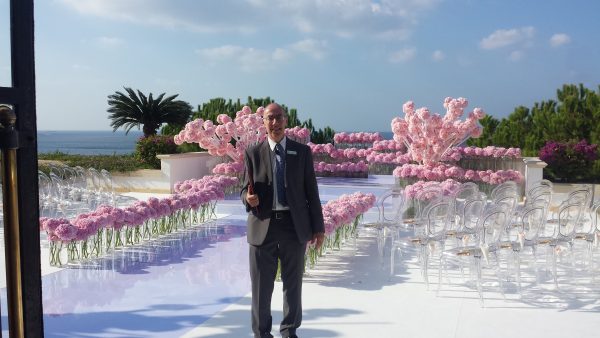 When you choose a celebrant, you know you're going to be paying anything from a few hundred pounds to a four-figure sum. Whether you ultimately receive the value of that expenditure, or not, it's still a significant amount of money to spend.
It therefore pays to do some homework before you commit.
Of course, you may know somebody who has seen the celebrant in action (or you have yourself). In that case, you have a good idea what to expect, if you engage them. However, that doesn't tend to be the rule.
More commonly, people will have to choose from a blank page. More precisely, from a website and reviews. These may well give you a feel for your supplier. Then you look at a competitor's page, and that seems very attractive too!
So my advice is to meet a couple, so you can compare like-for-like. (In these days of social distancing, you "meet", of course, via Zoom, Skype or phone).
Not the first question
People assume that the price is the deciding factor, and, therefore, it's the first question to be asked.
Of course, you are likely to be budget-dependent. But don't forget that you may also be able to juggle your outlay so that you save somewhere else the extra you may spend to secure the celebrant you want.
Remember that you will be working with a celebrant over months, probably. You'll be discussing intimate feelings with them. You'll need to like and trust them. You'll need to be sure they'll do what you – not what they – want.
They'll need to be able to write well and to present beautifully.
Does talking with them leave you feeling excited? Do you actually want to be married by that person?
It's worth paying a little extra, if you're assured of getting the right choice.
The real first question
So your priority is the celebrant's availability.
Almost as important is whether your celebrant responds to your vision for the day with flexibility or with arrogance. Can they deliver what you want?
Then reassure yourself that they are experienced and have proven success in their field.
Do you sense that they are just doing a job, or will they go the extra mile?
The answers to these questions should indicate to you who to go with.
Boring bits
Make sure you read their Terms & Conditions before you commit. Not that they are likely to be shafting you! However, you may assume something is included that turns out to cost extra. You want to avoid misunderstandings. What happens if you have to cancel or postpone?
I believe that you can feel confident if the celebrant belongs to a relevant association. There are minimum standards to be observed. So I am a member of the Association of Civil Celebrants (AOIC) and the UK Alliance of Wedding Planners (UKAWP).
A celebrant is no different from any other supplier. You're paying for a particular service. You want to be sure that you are getting value for your outlay. You deserve to know that satisfaction – if not delight – is virtually guaranteed.
Michael has been conducting ceremonies since early 2013, and would love to discuss this further with you. Just give him a call.