Vow Renewals
Have your big day all over again!
A vow renewal is a very special celebration, virtually without restrictions. It's a heartfelt way to celebrate your love and reaffirm the promises you originally made to each other on your wedding day.
Why celebrate a vow renewal?

Perhaps:

You're approaching a big anniversary (probably ending in 5 or 0)
You've come through a difficult time (e.g. illness or even a rocky spell in your marriage)
You didn't enjoy your original wedding (for a variety of reasons!)
You now have children and want them to be part of your commitment to each other
You married abroad and want a ceremony for those in this country
You only had a small wedding ceremony, or perhaps you eloped
You wish to reaffirm your relationship and mutual love
You simply want to say "I do" all over again!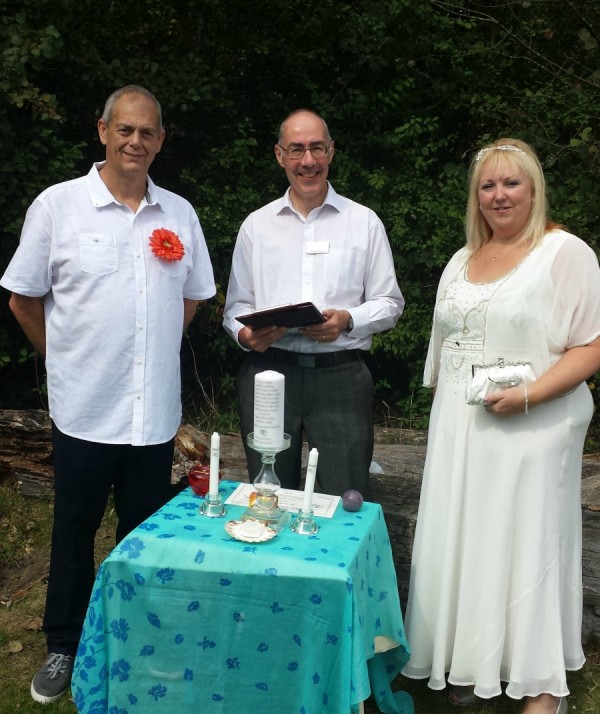 There are no rules when it comes to vow renewals; they can be for any reason and at any venue. A vow renewal is simply ceremonial, so you won't need a registrar or paperwork. All you have to do is to book your venue and decide on the catering etc. Then, together with your celebrant, plan the details of your unique ceremony.
I will offer you ideas and help (on the vows, for example), and my presentation on the day will make the event very special.
Testimonials from recent Vow Renewal ceremonies:
"An emotionally-fuelled ceremony"
"Very special"
"Professionalism"
"Patience and guidance"
"You really got to know us"
Please take a look at the Frequently Asked Questions page where you'll find more information about what a civil celebrant does. You can also read some more testimonials from delighted clients.
If you're ready for an informal chat, then please contact me.