I am friendly, professional and accessible. I am passionate about working with you to create the ceremony of your dreams.
Welcome!
I guess you're planning to celebrate a civil ceremony. Possibly, it's a wedding (mixed-faith or otherwise). Maybe it's a vow renewal, same-sex ceremony, ring-blessing, handfasting, baby-naming, or even a funeral.
Well, you've come to the right place!
I take pride and pleasure in crafting a unique, bespoke civil ceremony together with you – a ceremony which will be just the way you want it. The religious, ritual and spiritual elements can all be down to you. Similarly, participants, readings and music. Of course, I am always happy to advise.
I'm a renowned international celebrant specialising in mixed-faith ceremonies.
As a Hebrew reader, I can even include those elements you might desire for a Jewish or part-Jewish ceremony.
I'm a speaker of French, German, Czech and Russian (at various levels), and (ungrammatical!) Italian. I even managed a paragraph of Swedish at one wedding! Let me add an extra dimension to your day!
As a professional celebrant, I'm glad to make suggestions and give you ideas. Once you've chosen your framework, I propose draft ceremonies that you are free to amend. Then, on the day, you know exactly what to expect. You can relax and enjoy yourselves. You'll be confident you are in good hands.
And if you're looking for expert guidance about all aspects of weddings, I'm a published author. Do have a look on Amazon at my book "Your Wedding Guide"!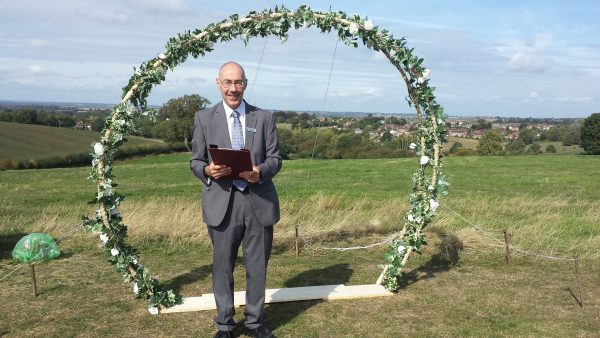 TESTIMONIAL
"We expected a quality ceremony that could be customised based on various cultural traditions.
"The service was fantastic, all emails were responded in time, the script was polished in advance, the quality of the script was high and your voice was crystal clear on the day. You were organized and professional and provided a quality service from the beginning till the end.
"You managed to create a warm atmosphere in the room that touched everyone independently of the culture. You used your personal skills (Russian language skills in this case) to make the ceremony unique. Really appreciate this!
"You are flexible, you listen to customer's ideas and make sure that the Ceremony is unique and performed with quality & passion. We really appreciated these qualities. You are a pleasant person to work with and we are absolutely happy that we have chosen you."
E & P