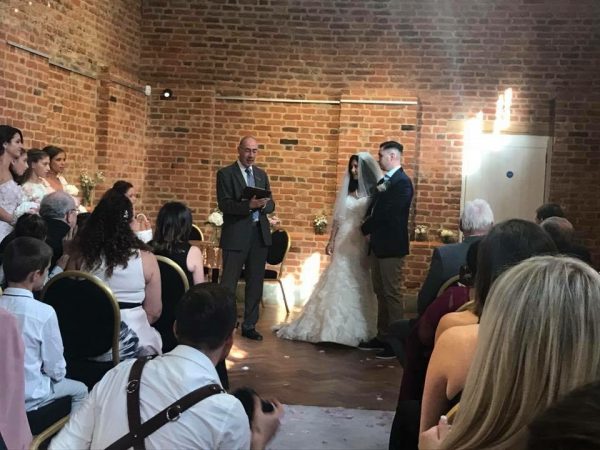 Just wanted to say thank you so much for leading our ceremony on Sunday. So many people have told us how beautiful they thought the service was and were impressed at how well we had blended both traditions. They also loved your explanations as we went and your address. The whole thing was great! We can't thank you enough for helping us put it together and for leading on the day.
David and Florence
Thank you so much for contributing so meaningfully to the celebrations on Sunday. Your presence at the service was greatly appreciated and your handling of all aspects was masterful. Thank you again for your guidance and management of the occasion.
Bride's parents Rosemary & Nigel 
Myself and my husband come from different religious backgrounds we knew what we wanted from our ceremony we just needed to find the right celebrant to officiate it. We met with Michael about 6 months before the wedding and he took the time to find out all about us, our relationship and what we wanted out of the service itself.
We were immediately at ease in Michael's company with his professional, calm manner and experience, under his guidance we were able to create a ceremony completely unique to us. Meeting with Michael throughout the lead up to the wedding was great as it built a rapport between the 3 of us prior to the wedding day and felt that Michael really knew us.
The ceremony was perfect and flowed seamlessly, our guests also commented on how much they liked Michael and how the whole ceremony was conducted.
Thank you so much for being part of our special day.
Laura & Ed
Michael recently officiated at my daughter's wedding in Dorset. He worked with the happy couple to create a ceremony that was beautiful, personal, all encompassing and thoroughly engaging. Michael and his amazing relaxed manner was able to bring calm to the moment and create memories that will last.
Alan C.  (Laura's father)
I just want to say thank you so much for the wonderful ceremony! So many of our family and friends have said how lovely it was!
Natalie & Mike
Michael made what can be a stressful build up that much more comfortable. He checked and double checked and checked again all the details of the ceremony with us so that on the day we felt completely confident. My husband is Muslim and my family are Christian so he really had a job tailoring a ceremony that everyone was comfortable with which he did brilliantly. He also managed to squeeze us in very last minute as our initial officiant cancelled on us. The feedback we received from our guests was that the ceremony was magical and both my husband and I quite agree!
Lucy & Mahmoud
Our expectations were that you would take the ceremony seriously but with a touch of humor. We were impressed with all the options you sent such as hand tying, breaking of the glass AND your ability to merge all sorts of traditions into one Ceremony!
We along with our guests were so impressed with the ceremony. Everything flowed so well together. You kept the ceremony running smoothly and commanded the attention of the room. We were especially impressed with your suggestion of the loving cup and hand tying. You helped create a ceremony that was very unique while still pulling from tradition.
You made things special by offering excellent suggestions to incorporate into the ceremony.
My father was so moved by the breaking of the glass- it's all he can talk about!
You are professional and full of great ideas!
The perfect choice for someone looking for a unique wedding ceremony!
Risa & Ben 
We would like to thank you for your great help on Friday. We really like the bespoke speech you made, in particular the British poem and wishes translated from Chinese. Our guests also provide very positive feedbacks on the ceremony.
We'll also recommend you to our friends for their future weddings.
Cengbo & Xiao
Michael presided over our wedding with sensitivity, understanding and professionalism. His preparation prior to the ceremony was thoughtful and thorough. On the day Michael brought a spirituality that made our day all the more memorable. His choice of words, verses and quotes inspired my wife and I and our guests. We would highly recommend Michael for any occasion that desires a knowledgeable, kind, polite, easy going and spiritual person.
Adam & Stacy
I had spoken to a couple of celebrants before I had come across Michael and felt that no one really understood what kind of ceremony we were after. Michael had a wealth of knowledge so could offer options we hadn't even thought about. We wanted certain aspects to include my Jewish traditions, but still make it about us at the same time.
We met Michael at our local coffee shop, where he found out all about us and got the information he needed to write the perfect ceremony for our day. That evening (even though we were told it could take up to a week) we were emailed the options for the ceremony.
From there. we chose what we thought would suit us and our guests and Michael proceeded to outline how our ceremony would sound.
I have been told by almost all of our friends and family how thoughtful and beautiful our ceremony was.  We incorporated aspects of my religion that a registrar doesn't allow.
The day was made extra special by adding the breaking of the glass (which Michael provided free of charge) and a Jewish blessing. We also were given the opportunity to write how we met and everyone loved hearing the story so beautifully told by Michael, and sign a certificate.
People should use Michael because you will receive a service with so much thought, care and entertainment.  There was so much humour and love in Michaels' ceremony, he was able to capture how myself and my partner felt about each other and portray that to our guests on the day.
Michael, thank you for everything, you made our day so special and I am eternally grateful. You were so professional and amazing throughout. Thank you for being persistent with me and not getting annoyed when I didn't respond.
Renna & Sam

Michael delivered our wedding service fantastically. From the first Skype meeting, he was helpful and personable. Over a number of e-mails, he helped us create the meaningful, yet light-hearted ceremony that we wanted. He made suggestions along the way to guide us and really understood our expectations. He suggested a really funny poem to include that we kept secret from my husband until the day, and he loved it! Considering we hadn't actually heard Michael's delivery until the day itself, we really felt he was impeccable and did it justice. He had our guests chuckling with us. Thank you for such a memorable service and we can't rate you highly enough.
Sapna & Jon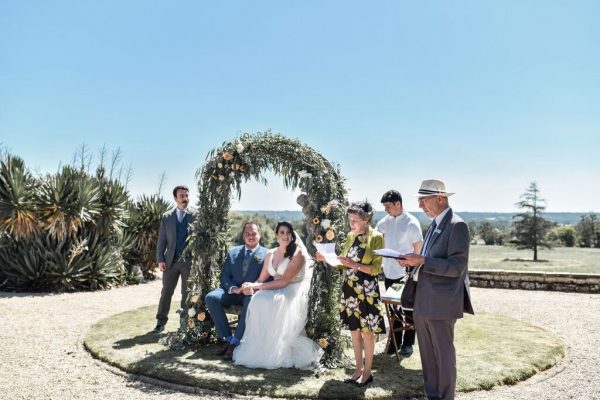 From our first meeting with Michael we came away feeling very confident we would like to use him for our ceremony. His calming yet assertive demeanour put us at ease and we knew he would blend and adapt to what we had planned very well. Michael injected some fantastic ideas along with some beautiful readings and on the day there wasn't a dry eye in the room. The whole process was very fluid and professional but always with a smile. We couldn't recommend him enough.
Carys & Jan
We knew we didn't want the traditional formal ceremony but apart from that we had no idea where to even begin or what we even wanted,  so we wanted a celebrant who could guide us in all aspects of the ceremony while allowing us to completely create something unique and special to us.
We are extremely happy with the service Michael gave us. We had a wonderful first meeting where he asked questions that allowed us to think of all the options for the ceremony and then he wrote a sample ceremony for us to consider. He took the time to get to know us as a couple and to get an understanding of what we wanted from him as a celebrant. His bespoke sample he made after our first meeting gave us the platform we needed to then build upon his absolutely perfect address and cut and add parts of the rest of the ceremony to make it uniquely ours, and for the entire ceremony to be one large declaration of what each  other means to us and how we feel about our marriage. We also wanted someone who had experience with handfasting ceremonies and other non-traditional formats, but who at the same time gave off a professional and traditional vibe when performing, and Michael fit this description perfectly. He offered unlimited advice as we needed but also allowed us to create the ceremony ourselves, building it around the exquisite 'address' Michael had written and his outline of the order of things. We would highly recommend him to any couple who want a truly bespoke ceremony and is looking for someone to help them create something special.
All our guests were telling us how beautiful and meaningful the ceremony was. Shane's more religious family found it wonderful, in that they said it was all about love and God is love. And everyone else who is not particularly religious said they found it the most interesting and captivating ceremony they've been too – it wasn't just the same thing they've all heard dozens of times before. Which is exactly what we wanted! Everyone to take away what they wanted to hear, but also for the ceremony to speak directly for us and to each other. Thank you again!
Brittany & Shane
Michael did a fabulous job preparing and hosting our Wedding Ceremony in May 2016. He had so many ideas to choose from and customised the approach to our multi-national family. We enjoyed working with Michael before and on the day. He managed to create an atmosphere of love & warmth and connected with our guests on an emotional level. He is professional, responsive, creative and more…he can speak Russian that made our Ceremony even more unique! If you consider a Celebrant, we highly recommend Michael!
Paul & Evgeniya
We were getting married and wanted something different from a simple registry. Michael made that wish came true. He was involved but without pushing his ideas, and sitting with us to bring out things we wanted to share with others on our special day. We then spent time as a team refining the vows. He was excellent value, a gentleman to deal with and truly helped in making the day special and memorable for us both. We would have no hesitation in recommending him to others who want to create some magic to last a lifetime……just Thanks Michael from us both.
Hina & Rakesh
My husband and I got married abroad but decided to have a blessing on our return to the UK.  Michael was the perfect choice for us.  He had lots of great ideas and was happy to adapt them to our personal needs.  The blessing was wonderful and so many of our guests commented on Michael and thought he was excellent.  We would highly recommend Michael's services as he made us a very happy couple!
Lucy & Dave
Working alongside Michael was brilliant. He was reassuring and accommodating to my husband's and my needs. I was in Japan when I first made contact with Michael and even with the distance, we were able to communicate and make sure that all the basics for our vow were covered. Michael was in continual contact with us and listened to all our requests as well as suggesting ideas of his own and making sure that we were 100% happy with our vows. I would recommend Michael to anyone who wants their vows to be unique and make their special day even more special!
Parveen & Joseph
Your blessing service was just perfect-just the right amount of time & the words that you said made it all very special indeed. You certainly brought the final icing on the cake……………with no spillages-M. was impressed!!!!!
Thanks again Michael-we shall bear you in mind when/if C. Decides to get married!!!!!
Bride's parents
Michael Gordon conducted a Jewish religious wedding ceremony for us immediately following our civil wedding ceremony. Michael was very receptive to our input and the whole process was smooth and pleasant. On our wedding day, Michael impressed everyone with his delivery, warmth, good humour and professionalism. We had many comments afterwards from our guests saying how impressed they were with Michael and how they felt a part of the ceremony (something that was important for us and which Michael helped us to achieve). Michael is happy to tailor a ceremony to meet a couple's particular requirements. His knowledge of Hebrew is both impressive and authentic. We would certainly recommend Michael to any couple who want to add a spiritual or religious element to their wedding celebrations without necessarily having something formal in a church or synagogue.
Anne-Marie & Adam
Michael Thank you being our celebrant and putting together our vow renewal, the words felt very personal to us which made it quite an emotionally fuelled ceremony that just flowed but embraced everything we wanted with the readings, blessings of our rings, lighting of our unity candles and finally the signing of our certificate. Our friends and family all commented on how we always do things a bit different and this ceremony and celebration exceeded that. Thank you.
Correen & Steve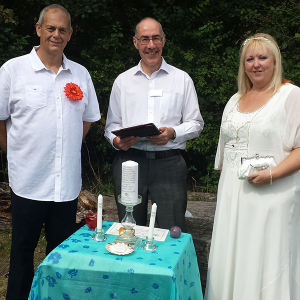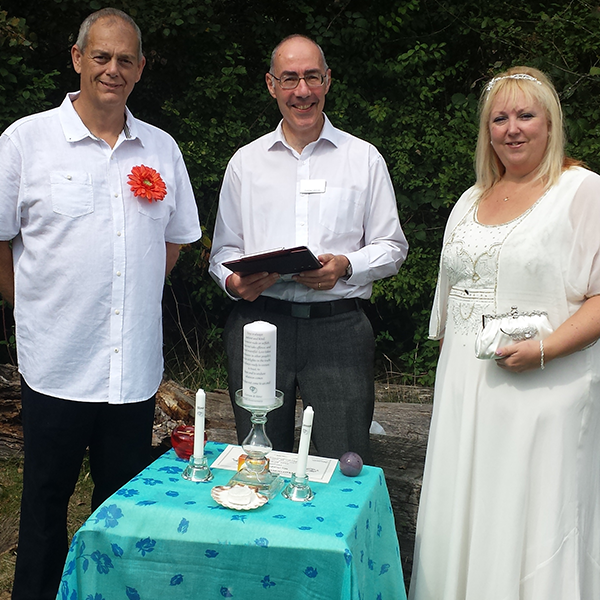 It is great news that the ceremony went so well. I am really happy that you were able to work off-the-cuff and rapidly turn your prepared text into French.  I would like to thank you for the professionalism that you have showed for us and I would not hesitate to call you again should the opportunity arise.
S.M. (travel consultant for Genevieve & Francis)
I just wanted to say thanks again for conducting our ceremony on Aug 12th.
It turned out to be a lovely day and the ceremony that you put together made it all come together very nicely. I was definitely nervous but so happy we did it. Thanks again for everything, you made it very special.
Michelle & Chris
Thank you so much for coming and being a part of our vow renewal, the most essential part of our day!  So many people said how lovely it was and how 'us' it was.
I'm not really sure what our expectations were.  I wanted the event to feel like a ceremony but not be heavy or religious or taken by someone who didn't really know us.  Upon speaking to you I realised that you were most concerned about what we wanted to express on the day and how to achieve that.
What did we think of the service?
Patience and guidance is what you gave us in abundance.  You nudged us and kept us on track whilst also encouraging us to express our thoughts and wants.  A brilliant service that's what I think.
What did you do to make it special?
Gosh where do I begin… you got to know Richard and myself.  Really know us and what was important to us on the day.  You guided us through the process and on the day itself made something really quite simple as exchanging a few words really meaningful.  You involved us and our girls and gave us a ceremony that we honestly couldn't have envisaged without you.  Afterwards you kindly stayed and became part of our celebration and that meant a lot to us.
Other people should use you because you make the event about the people involved.  It isn't about religion, politics or family it's about love and you gave us the opportunity to express it to those important to us.  Thank you.
Our deepest heartfelt thanks.  Richard and I feel grounded in our love celebrated with our nearest and dearest.  What a great day, thank you for being such an integral part of it.
Lindsey & Richard
I just wanted to say thank you so much for a beautiful, moving handfasting. It was a terrific day, and you made it so special. Thank you also for all your help and support in the organisation and afterwards. With my ill-health and everything which has happened with Gran, it has been invaluable. Cheers for doing us so proud.
Annie & Ross
Thanks again for your help on the big day. I was truly surprised at how many people approached me later that evening asking more about the ceremony and that they had never heard of it before, and loved the wording and the vows you put together.
Mickie & Kristian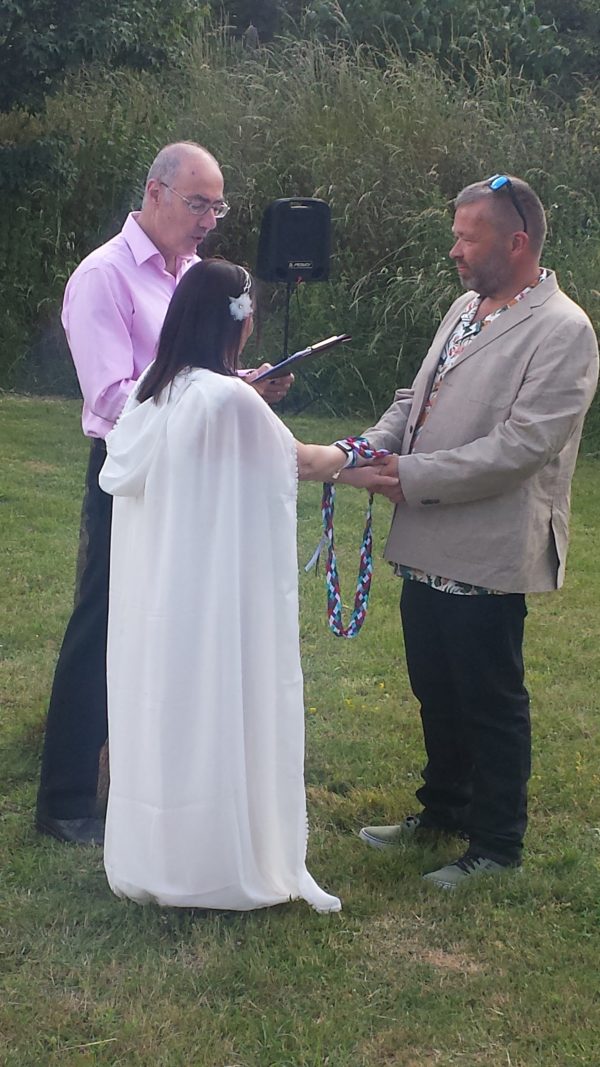 Duncan and I would like to thank you for an outstanding ceremony!
Our guests and us thought it was beautiful and so unique. It fitted our wedding and the solstice perfectly and we feel blessed because of it.
Finally, we couldn't recommend you enough, your lovely tone of voice, your polite manner and most of all your dedication and professionalism.
Thank you!
Lamia & Duncan
Michael helped us to create an extremely personal and moving ceremony to celebrate the birth of our daughter. He was responsive to our requirements and preferences, and had just the right manner and approach on the day to make everything go extremely successfully. Michael is also very communicative and well-organised throughout the preparation for an event, and has a great deal of experience and material upon which to draw. A collaborative and enjoyable process culminating in a great day.
Lucy & Tim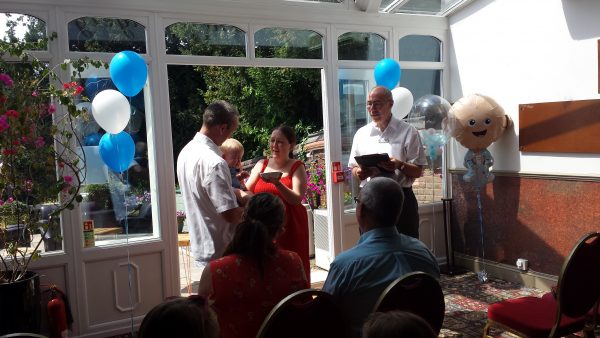 You were very professional, it was a lovely service and a day we will always remember. I would highly recommend you to anyone who would require your services.
Annie & Stuart
We wanted to thank you for your calm and considered approach, as a celebrant, at out Mother's funeral.  You relieved a lot of our strain by planning the order of service with us and offered some invaluable advice and suggestions. 
Your delivery on the day was most appropriate to the occasion and the limitations imposed by the COVID situation did not diminish the thoughtful words you relayed about Mum. 
We could not have hoped for any more from you and we have had many comments about how lovely the service was.
Thank you again,
B & I Jefferies
It was an absolute pleasure working with Michael on my fathers cremation. This time is very distressing but Michael made the process of writing a eulogy much easier as he pieced together all my notes into a true reflection of the gentleman my father was.  He selected beautiful readings and kept in touch throughout the process always offering the opportunity to alter the readings if needed. 
L. Daniels
We were both very happy with the way the service went and found you to be very easy to talk to and work with. You were very flexible and open to our ideas and helped make it a lovely send off for my Dad. There is nothing you could have done better, so thankyou very much for that.
J. Powell
Myself and Kim were extreamly happy with the way things went on the day of dads funeral which obviously included your part in the proceedings, thank you very much.
Kims father in law enjoyed the service so much he said he would like to book you for his funeral, my best and oldest friend told me that he really enjoyed the service, the way it was presented and the content.
All in all I don't think we would have changed anything.
G. Sanders
Thank you Michael for helping with our family funeral. Your calm, professional and sympathetic manner when you first met us to discuss the funeral was a great support. You discussed our needs and listened to the way we wanted the funeral to be run, accepted our input and participation in the service, and were willing to make any changes we requested.  The service ran very smoothly thanks to your calm and competent facilitation, and this helped to make it a celebration of Ian's life. Several guests commented that it was a lovely service.
E. McAleese
I just thought I would drop you a quick note to say a big 'thank you' to you for your efforts yesterday.  At the wake we received nothing but praise from Mum's family and friends for the way you conducted the funeral, getting the mood of the congregation just right, and smoothly and gently taking us through the service.  I know this is what you do but every one thought it was wonderful.  Thank you.
D. Collis
Writing and planning a funeral service for a parent is never easy and not something you'd ever wish to practice. Celebrant Michael made the entire process easy whilst being sympathetic to my needs. He took the time to explain aspects of the service as well as quickly draft the wording, selecting appropriate readings and providing recommendations on what I could do within the service time. Within days we managed to create a service running order and speech which fulfilled all my needs and expectations, creating a service as my true farewell having heart, hope and remembrance. On the day he delivered the speech with warmth and respect, I couldn't have asked or expected for a better service. Thank you Michael.
M. Lai
My sister and I didn't want a religious ceremony for the cremation of our brother and decided on a civil celebrant.  Michael came recommended to us by the funeral director.  From the outset he was very sympathetic to our needs.  Like many having to organise the funeral of a loved one, we were both outside our comfort zone in what we needed to include for the service.  I live in Swindon and my sister in London so a face to face meeting was going to be difficult to arrange. Michael liaised with us both by phone and email to create an order of service.  Having listened to our thoughts and what our brother liked, he emailed us a draft order of service incorporating those ideas.  This draft was spot on and we didn't need to change anything.   He advised on a couple of poems and we included one we wanted.  The service was lovely and we were very grateful to Michael for making the funeral planning as stress free as possible.  Everyone who attended also commented on the lovely service.
E Lloyd   V Brake
I just wanted to say thank you so much for delivering the service so perfectly on Thursday. You did a fantastic job and a lot of people commented on that.
D. Ramsden
Thank you again Michael for the wonderful eulogy. Everyone commented on how perfect it was.
She'd have loved today x
L. Webster
Our family would like to thank you for preparing and giving such a wonderful and thoughtful ceremony on the death of our grandmother. Your compassion and helpfulness leading up to the funeral was such a help to us all and it was obvious that you took the time to get to know your customers and were able to cater for our specific needs. We were most impressed with your speed and professionalism in preparing the ceremony, made the effort to come to the reception even with prior engagements, and you took the time to keep in constant contact throughout the whole affair.
Please accept our most sincere gratitude for making our day a memorable one.
S. Howe
Thank you for a very professional, humble and dignified job at Dad's funeral. The service was very special and many people have commented on just how well it all worked. Lovely to have you on board as part of Team Williams at our worst time. You and Tim have been lovely. I'm sure my mother will be in touch to express her gratitude but as you understand Dads death is still very raw for all of us.
S. Williams
We found Michael Gordon to be very professional and understanding of our requirements.
Our first meeting with Michael was when he came to our house and was very punctual and extremely easy to speak too. Michael took notes and listened to how we felt the service should proceed and made recommendations of things that we had not thought about. On the day Michael delivered a lovely service and remained with the family until we were ready to leave.
We feel that Michael helped a most stressful day run very smoothly and would have no hesitation in recommending Michael Gordon.
The Greens
Please accept our very sincere thanks from Mum, David and I for the most wonderful service that you gave for my Dad on Tuesday 2nd June. We all really appreciated the service and really felt that you summed up Dad beautifully – it was lovely.The day went exceptionally well and Mum is so pleased that we gave Dad a perfect send-off, not in any small part due to you. Our family and friends all commented on how lovely the service was and was 'John'.
Very many thanks once again for all your help throughout this very painful time – you have helped tremendously.
J. B.