Photo courtesy of mckinley_rodgers.com
It's extremely important to me that my clients are delighted with the ceremonies I design and perform for them.
I take a lot of time to carefully listen to your ideas, offering advice and guidance where it's needed and communicating with you throughout the process from end to end. My goal is to deliver a ceremony that is both personal and meaningful, and that will live on in your memory for years to come.
Here are a few recent testimonials from some of the clients it has been my privilege to work with.
Just wanted to say thank you so much for leading our ceremony on Sunday. So many people have told us how beautiful they thought the service was and were impressed at how well we had blended both traditions. They also loved your explanations as we went and your address. The whole thing was great! We can't thank you enough for helping us put it together and for leading on the day.
Michael delivered our wedding service fantastically. From the first Skype meeting, he was helpful and personable. Over a number of e-mails, he helped us create the meaningful, yet light-hearted ceremony that we wanted. He made suggestions along the way to guide us and really understood our expectations. He suggested a really funny poem to include that we kept secret from my husband until the day, and he loved it! Considering we hadn't actually heard Michael's delivery until the day itself, we really felt he was impeccable and did it justice. He had our guests chuckling with us. Thank you for such a memorable service and we can't rate you highly enough.
Thank you so much for contributing so meaningfully to the celebrations on Sunday. Your presence at the service was greatly appreciated and your handling of all aspects was masterful. Thank you again for your guidance and management of the occasion.
From our first meeting with Michael we came away feeling very confident we would like to use him for our ceremony. His calming yet assertive demeanour put us at ease and we knew he would blend and adapt to what we had planned very well. Michael injected some fantastic ideas along with some beautiful readings and on the day there wasn't a dry eye in the room. The whole process was very fluid and professional but always with a smile. We couldn't recommend him enough.
Michael presided over our wedding with sensitivity, understanding and professionalism. His preparation prior to the ceremony was thoughtful and thorough. On the day Michael brought a spirituality that made our day all the more memorable. His choice of words, verses and quotes inspired my wife and I and our guests. We would highly recommend Michael for any occasion that desires a knowledgeable, kind, polite, easy going and spiritual person.
Michael did a fabulous job preparing and hosting our Wedding Ceremony. He had so many ideas to choose from and customised the approach to our multi-national family. We enjoyed working with Michael before and on the day. He managed to create an atmosphere of love & warmth and connected with our guests on an emotional level. He is professional, responsive, creative and more…he can speak Russian that made our Ceremony even more unique! If you consider a Celebrant, we highly recommend Michael!
Vow Renewals -Testimonials
Thank you so much for coming and being a part of our vow renewal, the most essential part of our day!  So many people said how lovely it was and how 'us' it was.
I'm not really sure what our expectations were.  I wanted the event to feel like a ceremony but not be heavy or religious or taken by someone who didn't really know us.  Upon speaking to you I realised that you were most concerned about what we wanted to express on the day and how to achieve that.
What did we think of the service?
Patience and guidance is what you gave us in abundance.  You nudged us and kept us on track whilst also encouraging us to express our thoughts and wants.  A brilliant service that's what I think.
What did you do to make it special?
Gosh where do I begin… you got to know Richard and myself.  Really know us and what was important to us on the day.  You guided us through the process and on the day itself made something really quite simple as exchanging a few words really meaningful.  You involved us and our girls and gave us a ceremony that we honestly couldn't have envisaged without you.  Afterwards you kindly stayed and became part of our celebration and that meant a lot to us.
Other people should use you because you make the event about the people involved.  It isn't about religion, politics or family it's about love and you gave us the opportunity to express it to those important to us.  Thank you.
Our deepest heartfelt thanks.  Richard and I feel grounded in our love celebrated with our nearest and dearest.  What a great day, thank you for being such an integral part of it.
I just wanted to say thanks again for conducting our ceremony on Aug 12th.
It turned out to be a lovely day and the ceremony that you put together made it all come together very nicely. I was definitely nervous but so happy we did it. Thanks again for everything, you made it very special.
Michael Thank you being our celebrant and putting together our vow renewal, the words felt very personal to us which made it quite an emotionally fuelled ceremony that just flowed but embraced everything we wanted with the readings, blessings of our rings, lighting of our unity candles and finally the signing of our certificate. Our friends and family all commented on how we always do things a bit different and this ceremony and celebration exceeded that. Thank you.
Handfasting -Testimonials
I just wanted to say thank you so much for a beautiful, moving handfasting. It was a terrific day, and you made it so special. Thank you also for all your help and support in the organisation and afterwards. With my ill-health and everything which has happened with Gran, it has been invaluable. Cheers for doing us so proud.
Duncan and I would like to thank you for an outstanding ceremony!
Our guests and us thought it was beautiful and so unique. It fitted our wedding and the solstice perfectly and we feel blessed because of it.
Finally, we couldn't recommend you enough, your lovely tone of voice, your polite manner and most of all your dedication and professionalism.
Thank you!
Thanks again for your help on the big day. I was truly surprised at how many people approached me later that evening asking more about the ceremony and that they had never heard of it before, and loved the wording and the vows you put together.
Naming Ceremonies -Testimonials
Michael helped us to create an extremely personal and moving ceremony to celebrate the birth of our daughter. He was responsive to our requirements and preferences, and had just the right manner and approach on the day to make everything go extremely successfully. Michael is also very communicative and well-organised throughout the preparation for an event, and has a great deal of experience and material upon which to draw. A collaborative and enjoyable process culminating in a great day.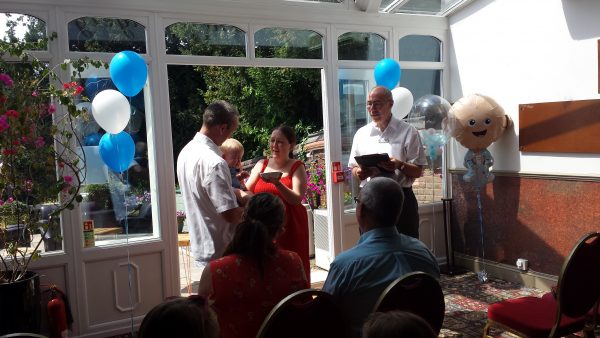 You were very professional, it was a lovely service and a day we will always remember. I would highly recommend you to anyone who would require your services.
We wanted to thank you for your calm and considered approach, as a celebrant, at out Mother's funeral.  You relieved a lot of our strain by planning the order of service with us and offered some invaluable advice and suggestions. 
Your delivery on the day was most appropriate to the occasion and the limitations imposed by the COVID situation did not diminish the thoughtful words you relayed about Mum. 
We could not have hoped for any more from you and we have had many comments about how lovely the service was. Thank you again,
We were both very happy with the way the service went and found you to be very easy to talk to and work with. You were very flexible and open to our ideas and helped make it a lovely send off for my Dad. There is nothing you could have done better, so thankyou very much for that.
When I first spoke to you I felt comfort and know you were easy to talk to. Especially when you giggled when I told you mums first song was a spice girl song. You told me how the order of service was going to be and made it sound so easy.
On the day of the funeral when you introduced yourself I felt everything was going to be OK. When I said my poem then became emotional and I could not carry one you jumped up and carried on where I struggled.
 It was a absolute pleasure to work along side you.
 M. Coleman
It was an absolute pleasure working with Michael on my fathers cremation. This time is very distressing but Michael made the process of writing a eulogy much easier as he pieced together all my notes into a true reflection of the gentleman my father was.  He selected beautiful readings and kept in touch throughout the process always offering the opportunity to alter the readings if needed. 
I just thought I would drop you a quick note to say a big 'thank you' to you for your efforts yesterday.  At the wake we received nothing but praise from Mum's family and friends for the way you conducted the funeral, getting the mood of the congregation just right, and smoothly and gently taking us through the service.  I know this is what you do but every one thought it was wonderful.  Thank you.
Thank you for a very professional, humble and dignified job at Dad's funeral. The service was very special and many people have commented on just how well it all worked. Lovely to have you on board as part of Team Williams at our worst time. You and Tim have been lovely. I'm sure my mother will be in touch to express her gratitude but as you understand Dads death is still very raw for all of us.
Writing and planning a funeral service for a parent is never easy and not something you'd ever wish to practice. Celebrant Michael made the entire process easy whilst being sympathetic to my needs. He took the time to explain aspects of the service as well as quickly draft the wording, selecting appropriate readings and providing recommendations on what I could do within the service time. Within days we managed to create a service running order and speech which fulfilled all my needs and expectations, creating a service as my true farewell having heart, hope and remembrance. On the day he delivered the speech with warmth and respect, I couldn't have asked or expected for a better service. Thank you Michael.
Thank you Michael for helping with our family funeral. Your calm, professional and sympathetic manner when you first met us to discuss the funeral was a great support. You discussed our needs and listened to the way we wanted the funeral to be run, accepted our input and participation in the service, and were willing to make any changes we requested.  The service ran very smoothly thanks to your calm and competent facilitation, and this helped to make it a celebration of Ian's life. Several guests commented that it was a lovely service.
Please take a look at the Frequently Asked Questions page where you'll find more information about what a civil celebrant does. You can also read some more testimonials from delighted clients.
If you're ready for an informal chat, then please contact me.