WHY NOT TRULY 'TIE THE KNOT'
A Celtic ritual
Handfasting Ceremonies – a ceremony dating back to Celtic times and the literal meaning behind "tying the knot"
This is a beautiful ritual that goes back to Celtic times (technically, to Ancient Roman and Greek days). It is the origin of "tying the knot". I can prepare a personalised handfasting ceremony for you, and your dreams can be fulfilled!
Publicly, the couple declare their intent to enter into union. Then the hands of the couple are clasped and handfasted (fastened together) with a cord or ribbon. This happens before or, usually, just after their vows are made to each other. The wrapping of the cord(s) forms an infinity symbol; the knot symbolises the new unity of the couple.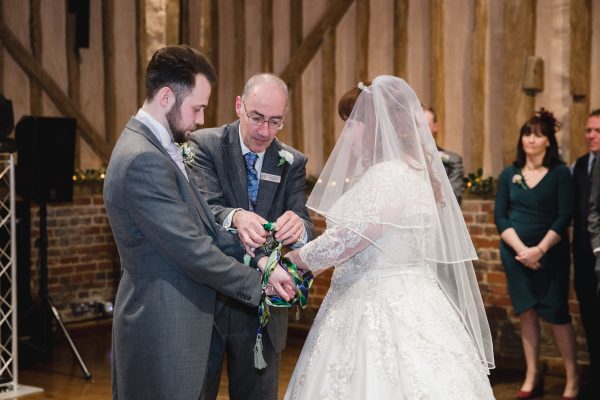 A handfasting at Lillibrooke Manor
Photo courtesy of Louie Donovan Photography
Handfastings can be part of various ceremonies, notably weddings and vow renewals. Vows That Wow offer the following choices:
1. Full Celtic: this is nature-related, and focuses on the elements.
2. Partial: this is a traditional wedding ceremony, which includes a handfasting, usually immediately after the Vows.
Some people choose to hold a handfasting in the Inner Circle at Stonehenge. Vows That Wow can arrange this, given sufficient notice. Another possibility is a ceremony in the public area, and that is fantastic too!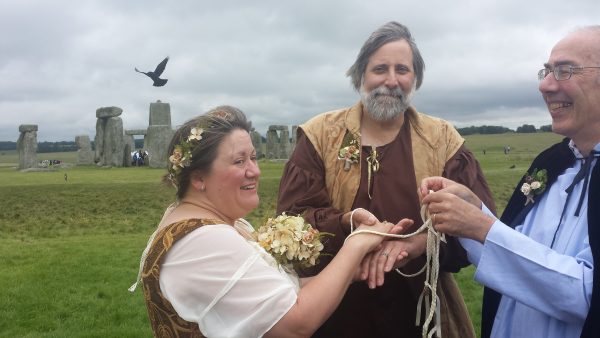 A Stonehenge Midsummer Vow Renewal Ceremony
I just wanted to say thank you so much for a beautiful, moving handfasting. It was a terrific day, and you made it so special.
Cheers for doing us so proud.
A & R
Thanks again for your help on the big day. I was truly surprised at how many people approached me later that evening asking more about the ceremony and that they had never heard of it before, and loved the wording and vows you put together.
M & K
D and I would like to thank you for an outstanding ceremony!
Our guests and us thought it was beautiful and so unique. It fitted our wedding and the solstice perfectly and we feel blessed because of it.
Finally, we couldn't recommend you enough, your lovely tone of voice, your polite manner and most of all your dedication and professionalism.
Thank you!
L & D
Discuss Your Special Ceremony