WHY NOT TRULY 'TIE THE KNOT'
A Celtic ritual
This is a beautiful ritual that goes back to Celtic times (technically, to Ancient Roman and Greek days). It is the origin of "tying the knot".
The couple declare their intent to enter into union. Then the hands of the couple are clasped and fastened together with a cord or cords just before, during or just after their vows are made to each other. The wrapping of the cord(s) forms an infinity symbol, and the knot symbolises the new unity of the couple.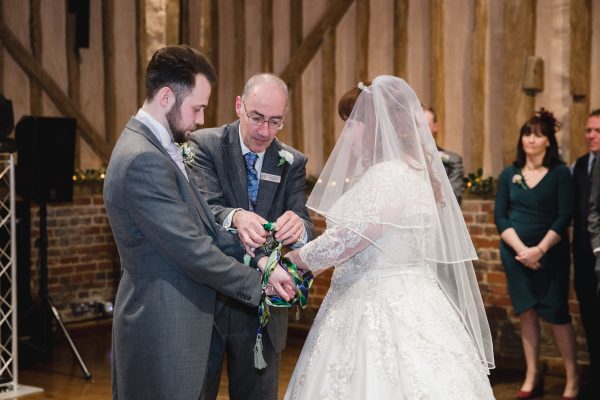 A handfasting at Lillibrooke Manor
Photo courtesy of Louie Donovan Photography
Handfastings can be part of various ceremonies, notably weddings and vow renewals. Depending on your choice, this can be the focal part of the proceedings or simply a delightful short ritual.
Some people choose to hold a handfasting in the Inner Circle at Stonehenge, which I can arrange, given sufficient notice. Another possibility is a ceremony in the public area, and that can be fantastic too!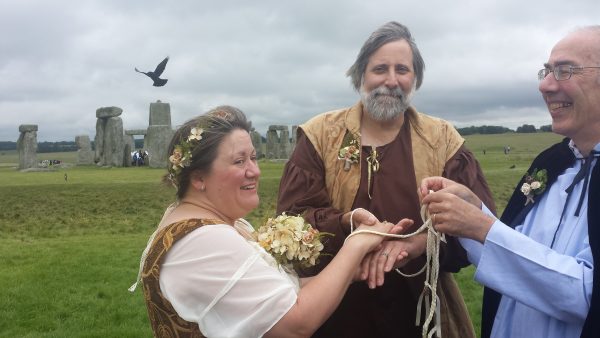 A Stonehenge Midsummer Vow Renewal Ceremony
I just wanted to say thank you so much for a beautiful, moving handfasting. It was a terrific day, and you made it so special.
Cheers for doing us so proud.
A & R