Handfasting Ceremonies
The literal meaning behind "tying the knot"!
Handfasting Ceremonies
Handfasting is a beautiful ritual that goes back to Celtic times (technically, to the Ancient Roman and Greek days). It's the origin of the phrase "tying the knot". When the two hands are tied together, it represents the binding of two lives. While it is most often included in Wiccan or Pagan ceremonies, it has become more mainstream and increasingly popular in both religious and secular occasions.
I can prepare a personalised Handfasting ceremony for you. Publicly, the couple declare their intent to enter into a union. Then the hands of the couple are clasped and handfasted (fastened together) with a cord or ribbon. This happens before or, usually, just after their vows are made to each other. The wrapping of the cord forms an infinity symbol, the knot symbolises the new unity of the couple.
Handfastings can be part of various other celebrations, notably weddings and vow renewals. Vows That Wow offer the following choices:
Full Celtic: this is nature-related and focuses on the elements.
Partial: this is a traditional wedding ceremony, which includes a handfasting, usually immediately after the vows have been exchanged.
Image shows a handfasting at Lillibrooke Manor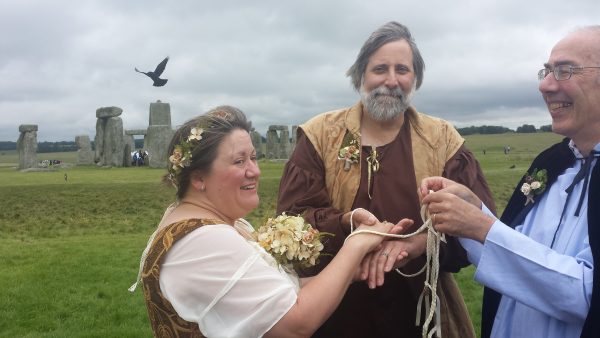 Have your handfasting ceremony at Stonehenge!
Some people choose to hold a handfasting in the Inner Circle at Stonehenge.  Vows That Wow can arrange this, given sufficient notice. Another possibility is a ceremony in the public area, and that is fantastic too!
Image shows a Stonehenge Midsummer Vow Renewal Ceremony
Your lovely tone of voice, your polite manner and most of all your dedication and professionalism
Please take a look at the Frequently Asked Questions page where you'll find more information about what a civil celebrant does. You can also read some more testimonials from delighted clients.
If you're ready for an informal chat, then please contact me.