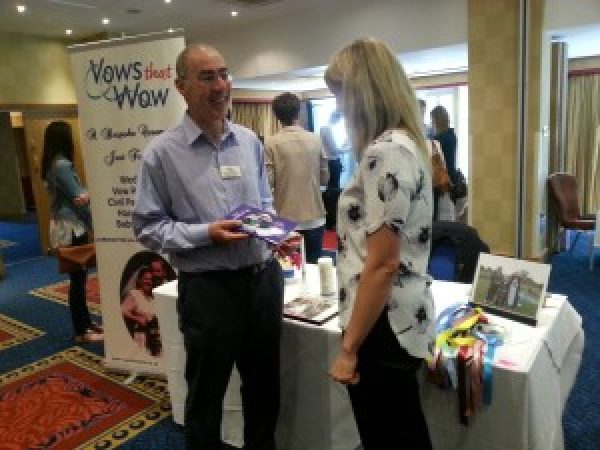 I have attended around 30 wedding fairs in my time. As a supplier, rather than a potential groom, I might add.
However, I have observed!
Of course, no two fairs will be identical, but there are certain commonalities that are worth noting.
The beetles
There are always people who are uncomfortable at wedding fairs. They avoid eye contact with exhibitors. Like insects, they scuttle round the room as quickly as possible, keeping to the centre of the aisle and doing their best to ignore any attempts from exhibitors to start a conversation.
As a shy person myself, I understand where they are coming from. However, why have they decided to give up an hour or two, if not to get a few ideas? How will they get these ideas, if not by engaging with the stallholder?
Monsters
Stallholders are rarely monsters. Sure, they initiate conversations – and we were all warned not to talk to strangers, weren't we? But these suppliers are experts in their field. They are worth talking to.
They are not going to compel you to part with cash just because you have spoken with them. They will certainly not threaten you.
They may ask for your e-mail details, say. This will be in return for entry to a prize draw or sending a freebie to you. Even if you supply your details and then decide you don't want to work with them, GDPR will be on your side. You can always request them to stop corresponding with you.
Angels
What the exhibitors will do is inform and advise you – you may get some really good tips (for free!) from them.
They will be lovely to you! They want your custom, so they are not going to be rude or abrupt. The ideal for them is that you realise that they are out there and offer something you might want and/or need. They want you to like and trust them. They are more likely to turn on a charm offensive. They'll also want you to be aware of how competent and professional they are in their field.
Moreover, they know that, even if you aren't going to buy their product or use their service, you might just know somebody else who will, so they aren't going to have a hissy fit if you declare you're not interested.
The couples who seem to get the most out of wedding fairs are happy to spend time with each exhibitor (or the majority) and ask plenty of questions. They can gain a picture of whether or not the exhibitor can meet their needs or wants, and whether they are a supplier they would be excited to work with.
If you come across me at a wedding fair, please have a chat. Find out what a civil celebrant can really offer. I'm really not nasty, and – who knows? – you might be impelled to explore personalised ceremonies further.
But if you don't want to wait till the next wedding fair, just give me a call or an e-mail!