Being on the other side of the fence at wedding fairs, I tend to note all sort of reactions from visitors. Of course, some are attending their very first show and are unsure what to expect; others may be attending for very specific purposes (it could be to see the venue or find a photographer, for example). I suppose some might be there for the freebies!
However, there is potentially a lot to take in and it can be a bit overpowering. I therefore offer a few tips that may help you get the most out of the experience.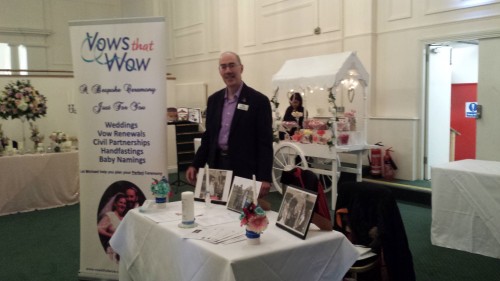 Hints
Arrive early. It tends to be less crowded then – and you are more likely to get freebies!
Unless you're focussed on finding just one particular supplier, such as a cake-maker, try and be methodical and cover all the aisles. You never know what you might otherwise miss.
Don't worry that stallholders will try and engage you. They won't be offended if you're not interested in their services; be curious, though. If you're looking for ideas, they may have something to offer that you hadn't expected. For example, quite a few people don't know what a civil celebrant like myself offers, and are glad they stopped to chat.
Make the experience as pleasant as possible. Do exchange smiles with others, even if you walk away with nothing from the stallholders. You may spend longer at the fair than you're expecting; you may be on your feet a long time. You may also end up with quite a bit to carry (there are usually goody bags, in addition to flyers you may pick up along the way), so try not to encumber yourselves before you even arrive. Maybe avoid surplus clothing, depending on the weather outside. And do at least wear comfortable shoes. Bring some bottled water, so you don't dehydrate.
Be prepared to ask questions and to listen. This is an information-gathering exercise, so don't feel inhibited. By all means, be prepared to make notes as you go through. You can also gain a useful snapshot of the enthusiasm and professionalism of your would-be supplier. You're going to want to know you'll feel a rapport with me, if I am to be creating your wedding ceremony and conducting it on the day!
Collect cards and flyers from vendors. When you leave the show, you will probably feel overwhelmed and tired, and may not remember who told you what. This way you'll be able to follow up with any supplier you want to. Incidentally, if you have a business card yourself (or prepare your own label), you can leave it with a supplier whom you want to contact you, and save time.
There may be a fashion show. That can give you some good ideas, but if you're already sorted with your dress, this might be a quiet and more relaxed time to visit the stalls instead.
There will be things on sale you might not be expecting and opportunities to sign up with suppliers at special prices, so it may be as well to bring your wallet with you. And if you have a camera, you can take a snap to remind you at a later date what attracted you.
Meet the Celebrant!
My next wedding fair is on Sunday, 17th May at the prestigious Compleat Angler, Marlow. My book "Your Wedding Guide" will be available to purchase at my stand, and I'd be delighted to meet you and answer any questions you may have about conventional ceremonies or handfastings, say. (If you tell me you've come along as a result of this article, I'll offer you 10% off any ceremony you may book with me!)