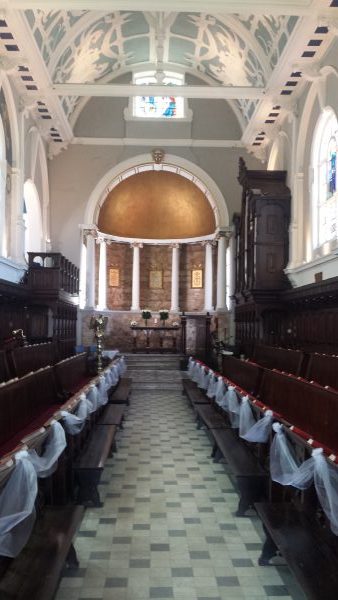 Returning to day-to-day affairs seems a little mundane, after the weekend we've just had! It's been even harder for me, as I celebrated my birthday right in the middle of the long weekend. Anyway, I hope you enjoyed the Jubilee (and my birthday!).
A few weeks ago (I'm afraid I got distracted, and put it off!) The Daily Telegraph published an interesting article. Apparently, marriages in places of worship now (as of 2019) account for less than a fifth of all ceremonies. This is the first time such a drop has been recorded – and actually represents a record low.
Religious ceremonies accounted for 18.7% of opposite-sex marriages, and same-sex a mere 0.7%.
One reason suggested was that more couples are choosing to live together, rather than marry, but that doesn't really explain the drop in the religious option. I wonder if it is more connected with the drop in active church-going.
Incidentally, I wonder if this will get worse before it recovers. Faced with all the uncertainty around Covid and social distancing, people prefer the greater flexibility of a civil celebrant to the rigidity of the Church.
I am not going to knock religious ceremonies (especially as I chose to marry in a full religious ceremony myself!). Obviously, they appeal to those religiously inclined, and can offer a personal, meaningful, spiritual and beautiful ceremony in a special setting.
Drawbacks could be perceived to be that they are rather one-size-fits-all. The basic liturgy is followed, and will be the same – or similar – for each couple. There is little flexibility in readings, texts, ritual etc., whereas a celebrant-led service can provide all these.
There can be complications, such as a mixed-marriage, which is no problem for a civil celebrant, but which may present difficulties for the priest. Moreover, a full-blown religious service can be a bit much for people who are only lukewarm towards religion, as it is.
The Church can be a lovely setting, but a civil venue can be chosen that is equally, or even more, spectacular and atmospheric.
So each to their own, of course. There is plenty to be said for religious weddings, but they are not everybody's cup of tea. A personalised celebrant-led ceremony may well tick all the boxes.
To find out how, a chat with me may be all that you need!