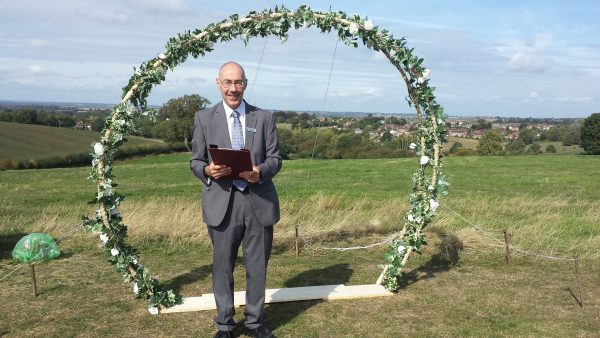 Most people have little, or no, experience of putting together a ceremony. The internet can offer some help, but consulting a professional is wise. However, how do you know which supplier is going to be a match for you?
Of course, you've got to decide what you want and how much you are willing to spend. One rule of thumb is that, if you really like someone but they're just out of your price range, it's worth going with them. You can probably cut a corner elsewhere to cover the shortfall.
I'm not going to talk here about the reception, as my brief is the ceremony. There are still decisions to be made, though.
The venue and the officiant are paramount – and will each have their own advantages as well as potential drawbacks.
Venue
If you are not marrying in church, you essentially have two choices: the Register Office or a venue such as a hotel. If the venue is not licensed for weddings, you need to go to the Register Office first (with two witnesses). Then you can have the wedding of your dreams (see next section) in the venue of your dreams.
If you're choosing a hotel, say, make sure you have visited – and love – it. Ensure you have spoken to the Event Planner and understand exactly what the terms and conditions are. For example, does your hire cover the whole venue? What about payment terms? What social distance safeguards are they employing? What happens if you have to cancel?
Celebrant
If you're going with a celebrant as officiant, there are many different types. Humanists should not even mention "God" or include any religious elements in their service (though a few do seem to be doing that nowadays). Wiccan celebrants will include pagan (nature-related) elements. Then there are independent celebrants who will include some conventional religious readings or rituals, if desired, but who are comfortable with secular ceremonies.
To clarify, an independent civil celebrant will normally tailor the service to your expectations and beliefs, so you can have as much – or as little – religion as you want. Your day really can be special and the way YOU want it.
Choices
Finally, you need to be sure of venue and celebrant (especially, as you'll want to be comfortable for your actual marriage).
Personal recommendations are always good. Otherwise, websites will give you an idea, but personal contact is even more revealing. Is this a venue that excites you? Will this celebrant listen to your wishes and be someone you can feel confident about?
Don't be afraid to ask questions. Check Terms and Conditions and query anything unclear.
If you have any questions in the meanwhile, please feel free to ask me!