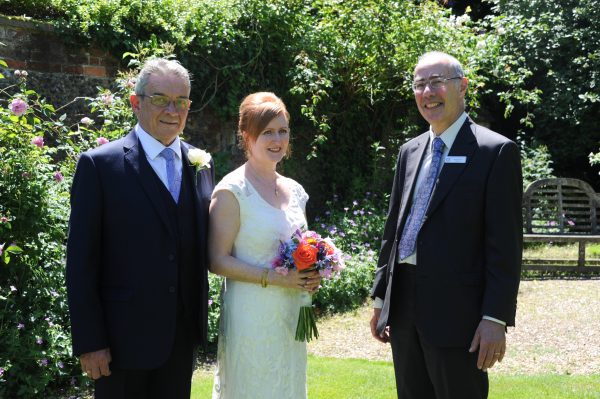 It's understandable that I get asked what a civil celebrant actually is. I hope this blog will give you answers and paint a clearer picture, so you can see the potential benefits of working with one.
Here are a few questions I get all the time.
Are you a Humanist?
The short answer is "no", but, in fact, I am much more than that. A Humanist is not supposed to include religious elements (or even the word "God") in their service. However, if you want a secular service, you don't need to resort to Humanists.
A civil celebrant can conduct a non-religious ceremony (as well as a part-religious or mixed-faith one). So that's simple enough.
How much contact time is there between myself and officiant?
You will only meet the registrars for the first time at the marriage ceremony. The same may go for your vicar, if you're having a church service. That's not normally the case with a civil celebrant.
Apart from an introductory, discovery call (or visit) after your initial contact, you have access to your celebrant at all reasonable times from the time of booking until the day of the ceremony. So if you have queries or issues, it is easy to resolve them and you will feel more relaxed on the day because you will have established a close relationship with your celebrant.
How much control do I have over what goes into the service?
Only if you are working with a civil celebrant will you get free choice. Of course, you will also get guidance and advice, if wanted. Your ceremony will not be not standard or pre-ordained. You can have your own readings, vows or rituals – anything to make your ceremony personal and unique.
A church service is set in stone and the registrars offer a standard service, although sometimes they offer a modicum of choice.
So the content is basically unrestricted, if you work with a civil celebrant.
What about location and timing?
The church or Register Office ceremony is normally limited to "office hours". A civil celebrant has no restrictions on when the ceremony can take place.
Likewise, with the location. A civil celebrant will conduct a ceremony for you almost literally anywhere. That's clearly not the case with church weddings, and there are conditions to be complied with, in the case of Register Office services.
Hopefully, this will have clarified things a lot, but if you have further questions, please feel free to ask me!