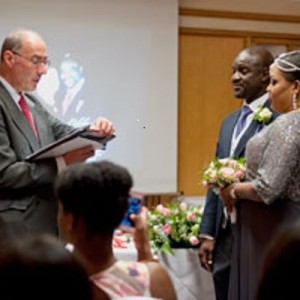 There is no reason why life-cycle ceremonies should be confined to the young. Those who are young at heart (or who actually admit to being "more mature") can enjoy the benefits too.
Weddings
Why marry at a later age?
To 'live a bit' before having a family
to establish a career first
to be sure the relationship will work
to have another go (remarriage after divorce or death)
as a gay couple, to convert their legal status
Should it be different from a younger couple's wedding?
In practice, a wedding (civil or religious) can be the same for any couple (but please note that I would not expect any two civil weddings I conduct to be identical!).
Age may dictate a few differences – some more subtle than others:
the mature couple may prefer a smaller ceremony, especially if they have already experienced a big first wedding
the mature couple may now have their own families, and want to involve them
they may prefer more age-specific  readings
a mature wedding may be more fun! There's less likely to be family pressure, so they can choose what they want to include and whom to involve – they can dictate ceremony tone and content, clothing, celebrant, venue and guests
a mature couple may not want wedding presents – instead, people can be given the opportunity to contribute to a charity of the couple's choosing
a ritual like "jumping the broom" may not be advisable for less sprightly people!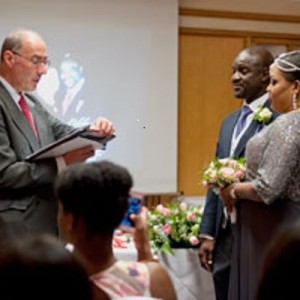 For a full discussion about Vow Renewals (why have one and how to mark it), please click on this blog link.
Vow Renewals have deservedly been gaining in popularity. Like weddings (see above), the couple nowadays has tremendous freedom of choice. Their event can reflect their personality, beliefs and wishes, so is often unforgettably unique. Of course, a good civil celebrant's  suggestions and advice will be invaluable in putting this together.
So a more mature couple should not feel deterred by age or even infirmity. The choices are out there – a small or large ceremony, religious, non- or part-religious, in a back garden, hot air balloon, dining room, castle etc., formal or less so, intimate or large-scale. The important thing is for the couple to choose what they are happy with so that they can enjoy a memorable and meaningful special day.
Then they can show those young whippersnappers a thing or two!