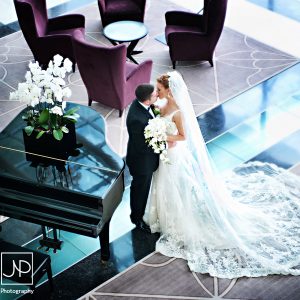 A successful wedding, to quite some extent, is not going to happen without good planning. And good planning cannot be left to the last moment.
Here are some suggestions (with a proposed timescale) for some of those jobs that will need consideration and, probably, action. Naturally, some of these suggestions will only apply to weddings of a certain scale, but you are free to follow or ignore them.
A year before
This may seem to be ridiculously premature, but experience suggests that it is worth starting early, so you can choose the suppliers you really want, and take the pressure off yourself for later on.
Book your venue
Give formal notice of marriage (to the church or registry office)
Choose your best man, bridesmaids and ushers
Decide on the number of guests to be invited
Book a photographer/videographer
Book your civil celebrant or priest
Start talking to your florist
Book your entertainment (DJ, band, musicians, etc.)
Order your wedding cake
Look for wedding clothing (bride, groom, bridesmaids etc.)
Organise transport (if relevant)
6-9 months before
Choose your wedding dress
Buy your wedding rings
Order invitations
With your celebrant, work on an 'order of service'
Choose a gift list
Book hair/beauty appointments
Reserve accommodation for guests, if appropriate
Book your honeymoon (including passports, visas, inoculations, etc.)
3-6 months before
Organise hen/stag nights
Select wedding music/book a band
Send out invitations
Organise the printing of order of service sheets
Confirm all bookings
6 weeks before
Go over final details with your venue
Write speeches
Finalise guest list and draw up a seating plan
1 week before
Arrange collection of hire outfits
Reconfirm suppliers (florists, photographers, musicians, etc.)
Start packing for your honeymoon
1 day before
Enjoy some pampering
Have an early night
The day itself
Ushers and Civil Celebrant should arrive 40 minutes before the ceremony
Bridegroom and Best Man 30 minutes before
Bridesmaids and mothers 10 minutes before
Bride 5 minutes before
Doing all this will not guarantee removing all potential stress , but if you start early enough and work at it steadily, there's every chance that your big day will be a truly wonderful day from beginning to end. And that's what you want, isn't it?
Michael can help prepare and conduct a tailor-made civil ceremony in or around London, or, indeed, in Europe.