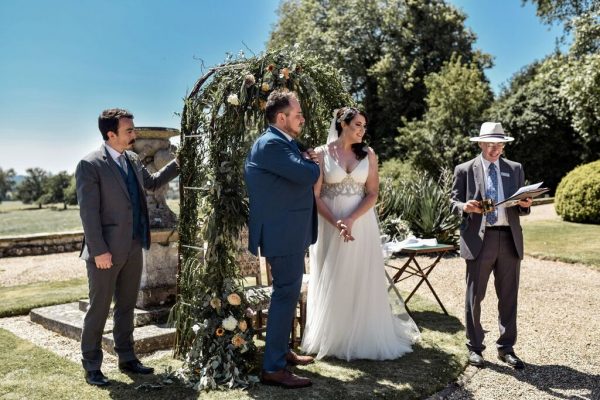 Although micro-weddings can sometimes be the cheapest option, the accumulation of expenses associated with a wedding can seem relentless.
Why the expense?
Some suppliers sense 'easy pickings' when a couple approaches them. Prices can be raised just because it's for a wedding. These vendors may sense an opportunity to exploit excited, bemused, inexperienced people. The couple may not know what is a fair price or what to expect from a supplier. They may simply stop at the first enquiry.
These suppliers can include venues, dressmakers, caterers, florists, make-up artists, celebrants (yes, even some celebrants!), photographers, planners, entertainment arrangers, vehicle hire – anyone and everyone! But don't be alarmed – the vast majority are honest!
Justification
Of course, suppliers with integrity will still be charging for what they do. And some do a very great deal. Bear in mind that much of what wedding suppliers provide happens behind the scenes.
For example, as a celebrant,  I don't just turn up early on the day, deliver the ceremony and then go home. There is a massive amount of liaison and work beforehand to ensure that the ceremony is perfect on the day, and fully reflects the couple's personalities and beliefs.
Depending on your budget and desires, a wedding may seem expensive. Your expectations matter. If you want specialists, then it's fair that you will be paying to benefit from their unique training, experience and expertise.
Saving
There are ways to reduce costs without sacrificing quality. You can get married Monday to Thursday and/or in the morning or afternoon. That should get you cheaper rates. Avoid peak times (Bank Holidays and summer in particular). Choose flowers that will be in season. Have a cash bar. Only supply a limited amount of alcohol (a surprising amount gets wasted anyway). Be creative!
It's certainly an important part of the buying process to shop around. The cheapest supplier may well not be the best (although the dearest doesn't have to be, either!). You need to feel confident that the suppliers you choose will deliver what they claim. Although their testimonials are a useful guide, you probably need to go with your heart. Again, from a celebrant perspective, I would not want to be married by an officiant I didn't feel comfortable with.
With judicious 'homework', you might be surprised at what good value your wedding turns out to be!