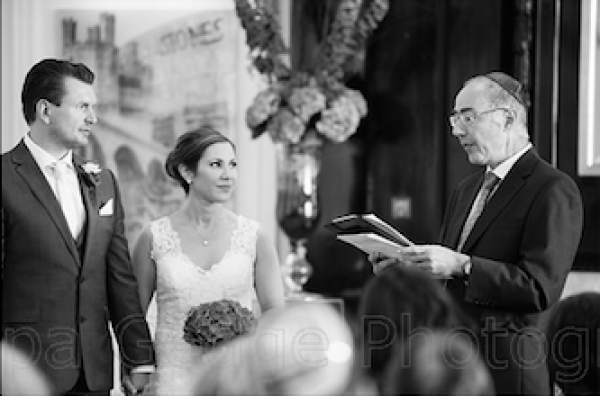 A mixed-faith ceremony isn't always straightforward. How many religious elements is your service to contain? Will your two religions be represented equally? How do you judge that? And what do you leave out?
Does your family have issues about you "marrying out"? If they don't approve, do you want to try to win them over?
You might be able to gain their support by discussing (calmly!) what they would actually like included, always allowing for the circumstances. You can suggest including a prayer or ritual that is important to them, or offer them a chance to participate in the service. The father can still walk the bride down the aisle (even if the aisle isn't actually in a religious building).
It may seem particularly difficult to reach a compromise when your relatives are footing (much of) the bill. However, the bottom line is that it is actually you who are getting married, and the final decisions should be yours.
Agree what you feel is best – and you can always have a chat with your celebrant, if you're in need of an impartial opinion.
Sooner or later, the question of the role religion will play in your future lives will come up. Face it early. And if children may eventually be part of the equation, how are you going to bring them up?
Reasons to proceed
If you understand better your partner's religious customs and traditions, you will be able to create a more meaningful wedding ceremony. And, importantly, this empathy may guide you in your future spiritual life together.
Once you've decided what you want to include (and exclude!), you can discuss this with your celebrant. That way, you can incorporate customs and traditional rituals that meet with your beliefs and desires.
As a couple, you can also select readings relevant to you and which underline your mutual love and willingness to make a commitment to each other. These personalised readings can lift the occasion far above the mundane. The sincerity and joy of a personalised ceremony will shine through and contribute to your guests' delight, as well as to your own.
Overcoming Obstacles
In addition to the suggestions already offered, one useful thought comes to mind for those who have – or intend to have – children. If your parents are being difficult, point out that you undertake to teach their grandchildren about their religious background. You must keep this promise, even if nobody is forcing you to follow the religion actively yourselves.
You may be able to arrange visits at special religious holidays and let your parents know that they will be able to play a part in their grandchildren's lives.
Obviously, there is only so far you can go, but it's important to hold out the olive branch. Not only will you feel better, if you've done all you can, but think of the rewards if you are successful! Your mixed-faith wedding may actually bring your families together and pave the way to harmony!
I'd say that's worth a bit of effort!
Michael has conducted many mixed-faith ceremonies, and will be glad to chat to you about how he can help you.
photo: Philippa Gedge