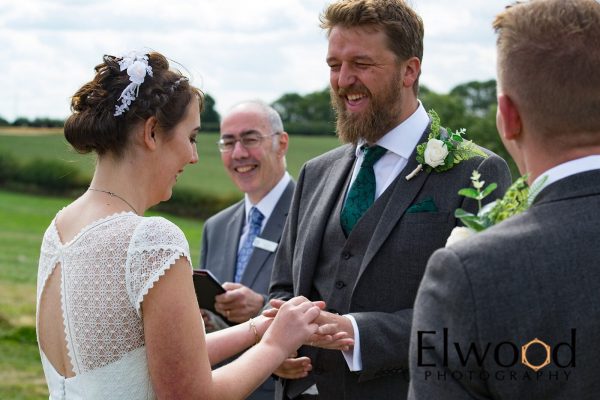 I'm bound to start with "it depends", aren't I?!
Do you get value for money when you engage a civil celebrant? Well, how much are you paying, for a start? How can you be sure that your supplier will provide what is wanted? What value do you put on a bespoke ceremony, impeccably delivered? Why bother with a Civil Celebrant in the first place – what's wrong with DIY?
DIY
Let's take the last point first.
Doing it yourself can work out. It's obviously cheaper getting an amateur to compile and conduct the ceremony, but the key could be in the word "amateur".
It's quite a challenge to understand what is required, what the couple's vision might be. Then choosing readings that are appropriate is not the easiest thing in the world. Finally, projecting and delivering a meaningful, memorable ceremony on the day is not something everybody can successfully do.
A civil celebrant will be trained to do all these tasks and, with luck, will have experience of the whole process. They take pride and pleasure in doing a good job. They are also aware that their reputation as a professional is at stake.
The Offering
So what can they offer you, and how much can you reasonably expect to pay?
Again, "it depends"!
The celebrant will consult with you and ask questions (as well as answer them). They will endeavour to eke out your vision for the day so that they can include the most suitable elements. These may include rituals such as a wine ceremony or handfasting, but there is a huge variety available.
They will suggest and advise what might work best and what, if anything, to be wary of.
Celebrants will discuss the processional (entry) and exit, music, readings, choreography and participants. They will offer guidance with the preparation of the vows.
After agreeing the ceremony order and content with you, the celebrant will know what to do on the day itself. Experience will be invaluable, especially when checking that everything is prepared beforehand and calming the nerves of all concerned.
Finally, the celebrant's presentation skills will make all the difference to the actual ceremony.
To some extent, you get what you pay for. The amount charged may fluctuate depending on how complicated the work is likely to be. I might charge more for a foreign language ceremony, as I would have to put in quite a bit of extra work to get it perfect.
Whatever the quote, be sure you understand what is included. Is travel extra, for example?
Some celebrants will ask over £1,000 for the whole thing; others may barely charge half of that. So how can you judge which will give better value? I think the answer also depends!
If you've seen the celebrant in action or you know somebody who has worked with them, then you'll have a feel for them. Otherwise, start at the website (including testimonials) and see if the celebrant appears to be on your page. Whatever you do, have a call (face-to-face, zoom or even just by phone), so you can see if you like the celebrant. Ask plenty of questions. Do they listen to you and understand what you have in mind?
Most civil celebrants are professionals in the best meaning of the term. This one would love to make a real difference to your big occasion, and you have only to contact me to set the wheels in motion.
photo: www.elwoodphotography.co.uk