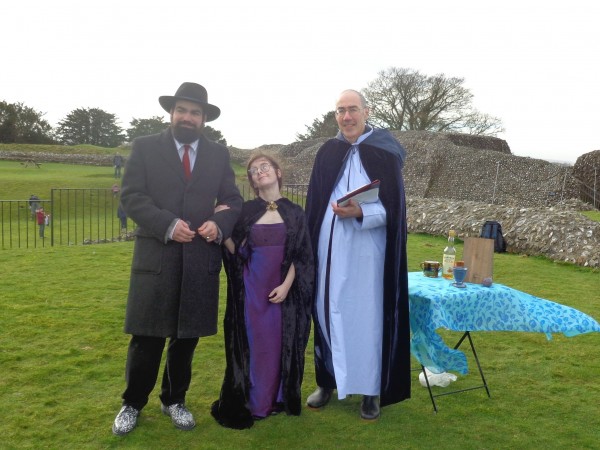 Matrimony may have declined somewhat in popularity, but it is still high in people's consciousness. And there's little doubt that changes are afoot in the UK wedding industry.
Some developments
Weddings do not have to be held in a religious building or in a registry office (although of course they do have to comply with legislation). You can marry in a hotel or stately home. You can celebrate your wedding on Waterloo Bridge, at Stonehenge, on a mountain top, on the coast, underwater (apparently!) or in a hot air balloon. Indeed, the sky – pardon the pun – is the limit!
You can have a part-religious ceremony or a pagan handfasting. You can include a combination of rituals. It's really up to you.
Single-sex weddings will be here by the end of this month, which extends the range of choice still more.
Feminism
Then there are changes brought about by the feminists. The bride doesn't necessarily wear white. She might not take on the husband's name. She may refuse to be given away.
The couple may eschew wedding vows and not bother with the honeymoon. Some will have done away with the engagement ring too.
Benefits
Most of these changes, arguably, benefit the woman (especially, dropping the need to promise to "love and obey" the husband). However, they may well have other benefits. Some of these will save the couple money, possibly at a time when expenditure is high (they may be buying a home, for example). More than that, there is something to be said, I think, for couples dropping traditions that actually don't mean much, or anything, to them. Sincerity counts.
Personalising their wedding, so that it contains just what the couple chooses and matters to them, is sure to be something that they will always gladly remember. And, because it's sincere and unique, the guests will enthusiastically recall such a  ceremony too.
Personally, I like a traditional wedding (indeed, I had one myself), but I also love creating bespoke ceremonies for others,  enabling them to make the most important day of their lives memorable, significant and, simply, a delight.
What do you think about these changes?
Michael Gordon can help prepare and conduct a tailor-made life-cycle civil ceremony in or around London or, indeed, in Europe.