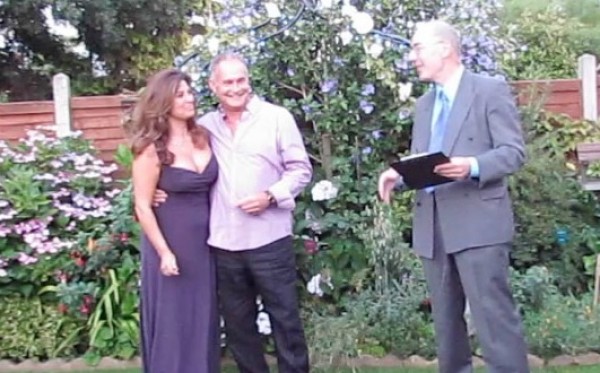 "Weddings" and "saving money" are uneasy bedfellows.  They seem like paradoxes. After all, weddings often cost thousands, even tens of thousands, of pounds.

So how can "saving money" enter into the equation?
Well, there are a number of ways of cutting down on expenditure. (And I don't mean reducing the catering to a sausage roll per guest!)
Obviously, you can control the size of the guest list, the type of venue you use and what you offer your guests.
Considerations
Venue – an "at-home" event may work out a lot cheaper, although organising everything yourself can be daunting. Bear in mind that, as organiser-in-chief, you may well sacrifice peace of mind, especially on the big day. Some of the considerations will include parking, neighbours, catering, entertainment, speaker system, toilets, serving food and drink, health & safety (beware of trailing wires etc.).
Unlike with a hired venue, you should not need to book a year or so in advance. Moreover, a home ceremony may win hands down in terms of atmosphere.
If you do hire a venue, choose a time and date that is less popular. That way, you have some bargaining power. So, apart from days like Christmas and Valentine's Day, winter is likely to be a cheaper time, and afternoons tend to be cheaper than evenings. Your venue will be delighted to accommodate you then!
2. Registrars – unless you choose a full religious ceremony, you will need to book the registrars. Otherwise, you will not be legally married.
One convenient trick (to kill two birds with one stone) is to have the registrars come to your venue. (Although the legislation may change soon, note that the venue currently needs to have four solid walls and a roof to be 'kosher' for weddings.)
The registrars will charge around £500 (depending on the region) for attending.
Try this canny money-saving idea: go to the Register Office yourselves (by appointment) with two witnesses before the wedding. This can be hours or even days ahead. You will only have to pay around £100 for the same ceremony you would get at the venue. You will then be legally married and free of that particular worry! So you can go to the venue of your dreams and have the ceremony of your dreams! (A Civil Celebrant can help you with a tailor-made ceremony.)
3. Booze – you can lay on some Prosecco for toasts, which can work out a lot cheaper than champagne, but just as satisfying. if you organise an afternoon reception, people tend to drink less alcohol then, so you may be able to save some money. A couple of bottles of wine per table (plus water and/or juice) should be adequate for the meal. You can operate a cash bar (make this clear to guests on the invitation!) for those who want to continue drinking.
4. Food – there is no need to serve a vast, showy repast. Three courses of decent, well-prepared staple food should do the trick. (Of course, don't forget to cater for vegetarians and, possibly, children.) And people tend to expect rather lighter meals, if it's earlier in the day.
5. Catering – you'll have to decide whether you serve a buffet or have waiter-service. With a buffet, the food still needs to arrive and be replenished, although guests can serve themselves. Then there's the clearing away and washing up etc. Silver service will cost much more, normally, but can be a lot more convenient.
With all these things, you will need to do some pricing up and comparison. However, thanks to these suggestions, you can take some real strides towards saving money on your wedding.
If I can help you further, please phone or e-mail me.