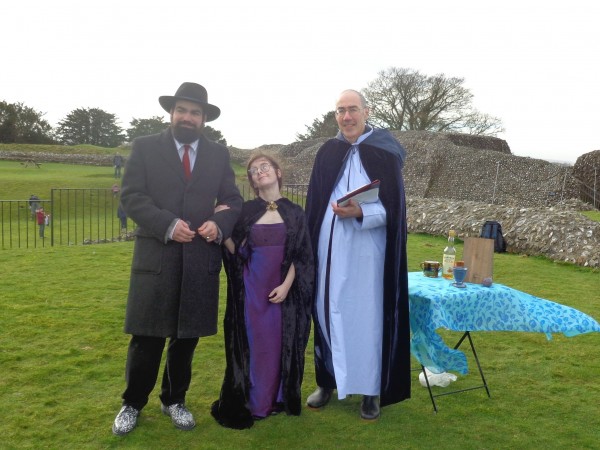 One of my favourite ceremonies, of all I have conducted, must be the handfasting wedding at Old Sarum iron age fort, overlooking Salisbury.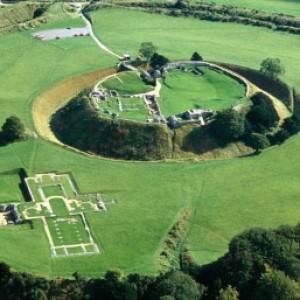 The weather turned out to be mild and dry –remarkable, considering that there had been serious flooding either side of the ceremony. The sun even came out on the lucky couple.
It was my first handfasting, and, to be honest, something I had never heard of until relatively recently. It turned out to be a moving and memorable occasion for all concerned, all the more interesting as a Pagan was marrying a half-Jew (with elements from both religions being included).
In my experience, few people have even heard of handfastings, so a word or two of explanation might not go amiss here.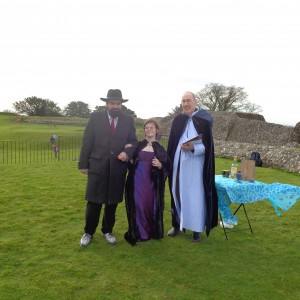 Just what is a handfasting?
A handfasting is a Celtic ceremony, which is a betrothal or wedding ritual in which the couple's clasped hands are draped with a cord or ribbon while they hold hands. Their hands (or wrists, actually) are literally tied together. In the traditional version, hands are knotted together from 10 a.m. till midnight, which is certainly interesting, if only logistically!
Each partner holds the hands of the other (right hand to right; left to left) with their wrists crossed. The ribbon is wound around the wrists over the top of one and under and around the other, thus creating the infinity symbol.
Hence, "tying the knot" and "bonds of matrimony"!
What is its origin?
This ancient, Celtic, nature-related, spiritual tradition dates back to way before weddings took the form (legally and ritually) that they do today. It is a ceremony of commitment that was first recorded 4,000 years ago.
Who would choose this?
People who do not want a formal, conventional religious ceremony might well enjoy and appreciate this beautiful and meaningful ceremony. Some choose it, as did Anne and Ross, for their wedding; others, after saying their vows; and still others at a betrothal for one year and a day (like a trial period, at the end of which participants can decide whether or not to renew).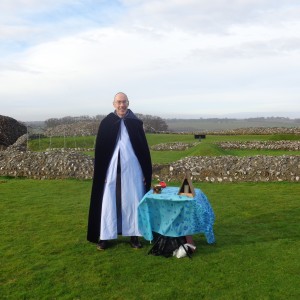 Where can this take place?
Subject to permission, this ceremony can be held more or less anywhere, indoors or out. I can perform  handfastings in the inner circle at Stonehenge, but there are no shortages of alternative atmospheric venues, such as Old Sarum.
It is a refreshing and lovely ritual and deserves to be better known about.