You may never even have considered renewing your vows, but one of the beauties of such a ceremony (as opposed to a wedding, say) is that you have real choice. There are some wonderful venues out there.
Depending on your budget, you can hold a vast, lavish affair for a hundred or more in a plush hotel. Alternatively, you might prefer a modest ceremony in your back garden for close family and friends.
A wedding may require a church service or a registrar ceremony; the planning (ceremony and reception) may involve family; you may have to organise any, or all, of: venues, catering, flowers, photographers, evening entertainment – all the trimmings.
For a Vow Renewal, you invite who you want, and prepare the ceremony that you want, at the place that you want. (This may be with the help of a civil celebrant, but not necessarily.) The size and scope will be down to you.
To give you some idea of what you can have, I'd like to look at three Vow Renewals that I recently played a part in.
Three Differing Examples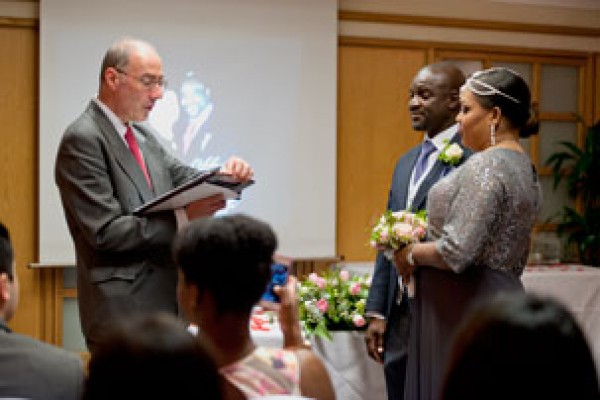 A London hotel
One was fairly conventional (and that's in no way a criticism!). It took place in a lovely Mayfair hotel, the Washington, before a couple of dozen guests. The room was opulent, but not overstated; there was a slide-show in the background, and the ceremony featured a moving, piece of music sung by a wonderful soprano.
The attention to detail by the staff was excellent, and we enjoyed a reception in the same room after the service. Though quite formal, it was a real feel-good affair.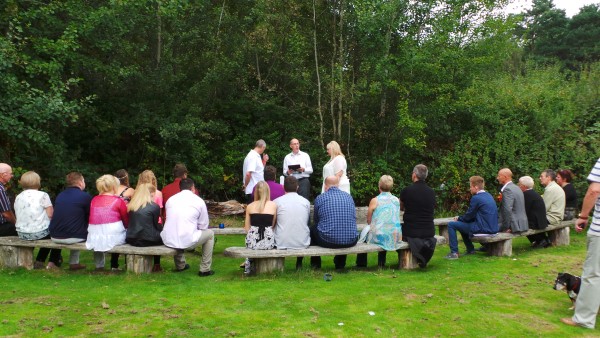 Messing About on the … Canal
Another couple were mad about barges, so Basingstoke Canal Centre made perfect sense for their venue.
The hire costs were negligible, as we used a secluded area in a wood with a tree trunk as a table, and benches made from trees, so the atmosphere was lovely. Dress was informal. The only expense (apart from refreshments, which the couple brought with them) was to hire a yurt for the reception (and for the ceremony, in case of rain). Again, we were only a couple of dozen chosen people.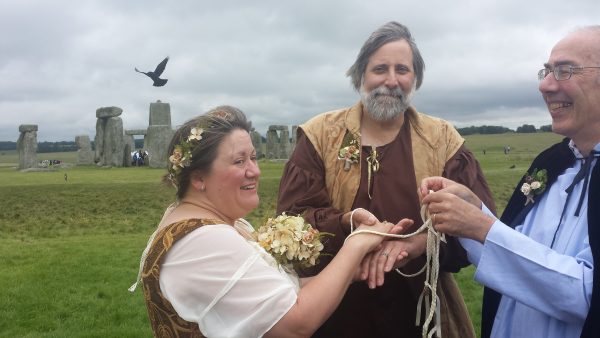 Stonehenge
Finally, how about a handfasting ceremony at Stonehenge? How atmospheric is that?
Actually, the atmosphere was different to what we expected, as it was Midsummer Day, and, uniquely, the site was free to visit. There was no chance to book the inner circle, so we shared the occasion with the public. In fact, we were actually part of quite a crowd – even though our party consisted only of the couple, a photographer, and myself. (Not to mention, Druids!)
A very special event indeed.
Other ideas
As a Londoner, I could suggest venues like the Shangri-la Hotel, up the Shard, or The Ritz or Savoy. At the other end of the scale – and be aware that you need permission – you could hold your ceremony on a bridge over the Thames or in Green Park.
What about booking the London Aquarium or the nearby London Eye?
Just the tip of the iceberg.
So be imaginative and relish a once-in-a-lifetime celebration!
Contact Michael for help, advice and guidance.