The papers are ever fuller with pictures and stories about celebrities who have chosen to renew wedding vows. Is this something that we mere mortals should be considering too?
Sure, it's a lovely way to mark a particular anniversary – whether it's 50, 25, 20, 10, 5 years (or even one!). Vow renewals are a beautiful gesture of enduring love. However, they do cost money, and it is worth thinking hard about the logistics.
Where to renew?
Of course, you can return to the venue where you originally married.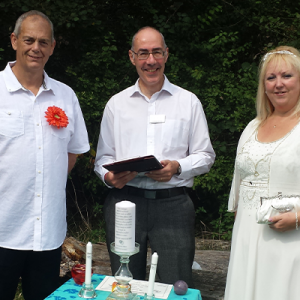 But there's nothing to stop you choosing a hot-air balloon or a beach, say, and staying on for a holiday afterwards.
Why renew?
Apart from celebrating an anniversary, you might want the ceremony because you have made new friends since your wedding, and you would love to include them this time around. Or maybe some family members couldn't make it for the original wedding.
You may want to involve some of these people in your ceremony (remember, the celebrant will work with you to ensure that you get the ceremony that YOU want). The vow renewal will be personalised (which may well not have been the case at your wedding).
Sometimes, a major life event may trigger your decision to hold a vow renewal. It could be that your marriage has come out the other end of a crisis (financial, an affair, ill health etc.). It might be that you are approaching a time of major change (retirement, children flying the nest, etc.).
Any of these reasons may inspire you to go for something a little more serious than a celebratory anniversary party.
Of course, it might just be that you are attracted by the beach wedding you never had!
Be that as it may, a public vow renewal forces you to think deeply about your relationship with your partner. The vows are the central part of the whole ceremony. This is your chance to say the things that matter and that you want your partner to hear and accept.
Conclusion
Come what may, your relationship will surely have moved on and deepened. That really is something worth celebrating!