We like – and need – rites of passage. These include baptism, confirmation,weddings, 21st birthdays, and (less popular!) death. They may also include Vow Renewals.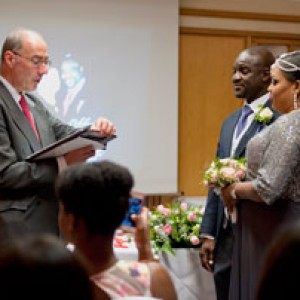 Vow renewals can seem irrelevant to you, unless you're approaching a significant date or know of someone else who is. So what is the point of them?
Why consider a Vow Renewal?
You've got through a whole year of marriage. You've learned how to share, compromise and live together. Well done! Why not mark this achievement in some way?
You've managed five, ten, fifteen or twenty (you get the picture!) years together. Now that's a real achievement! You could certainly recognise that in company with your friends and relatives.
Maybe your marriage has been rocky, but you've come out on the other side, and you want to re-commit publicly.
Maybe you married abroad, and would like to share the occasion with your friends over here.
Perhaps you have acquired a whole new set of friends and even relatives since marrying.
Maybe the vows you took have become irrelevant and need reformulating and restating.
You might even simply be looking for an excuse for a celebration!
These are just some reasons to consider having a public ceremony, or Vow Renewal.
Advantages
You can have your ceremony wherever you choose (of course, you may need to get permission, etc., in the normal way).
You can invite whoever you want and as many people as your budget allows.
You can include whatever you wish in the ceremony – readings, ritual, music, readers, etc. Your civil celebrant can advise and guide you. (Note that you will have the final say)
The tone of the ceremony (light-hearted, formal, etc.)  is up to you.
You can include whatever elements matter to you – eg ring blessing, rewritten vows, handfasting, for example.
It needn't be an expensive ceremony: at a basic level, you will need to pay for the venue (if you're booking one), the civil celebrant, refreshments (if you're having any), maybe a new set of clothes, and not much else.
Examples
I have officiated at venues as different as a Mayfair hotel and a Canal Centre. The Shard has been suggested as a venue, as has Waterloo Bridge and even at sea on the Queen Elizabeth. For a handfasting vow renewal, the inner circle at Stonehenge is an option. The world is your oyster!
If you can think of anybody who might appreciate a ceremony of this kind, I'd love to give them some help and guidance.