Now you've decided to consider a vow renewal, how can you save money on it?
The good news about vow renewals is that they tend to be a lot cheaper than weddings! However, nobody wants to spend more than they need to, so here are some suggestions that can lighten the load.
Venue
If you opt for a building or place of worship, you'll find you're in competition with people looking for a wedding venue. That means that the need to book early – and prices – will reflect the demand. What about holding the ceremony in your garden? It will take some time and effort to clean it up and prepare it, and a little imagination and expense to decorate it, but it could work very well. (Remember to warn the neighbours, though!)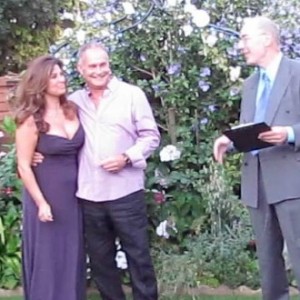 You might be able to hold your ceremony in a public place like a park – but you may still need permission from the landowner (and there may well be a charge).
Clothing
If you still have the clothes you were married in, why not wheel them out again? You may have changed shape a bit in the intervening years, so do try them on well beforehand. A tailor's alterations may save you a lot compared to buying a new outfit.
If you do want to buy from new, you may be able to find suitable attire at a good price online, or wait for sales' season.
There's nothing to stop you from having a casual 'do', so you can use clothes already in your wardrobe.
You could always compromise by buying a couple of items – shoes for her, and a tie for him, say.
Photographer
I always advocate a professional photographer for a wedding, and the same applies for a vow renewal. However, you can often get a cheaper rate, if you find a photographer just starting out. You might be able to enquire from a nearby college whether there are any photography students that they could recommend for you.
You can advertise, of course, although this can add quite a bit to your costs. Craigslist is seen by many photographers.
Food
There's much to be said for professional caterers, but they do add a lot on to the price. A sit-down meal is complex as well as dear, but, provided you have places to sit, a buffet will work really well. If preparing it yourself, you could ask family and friends to bring a dish. You might be able to buy from wholesale cash and carries, if you're buying in bulk, and save money that way.
Note that fruit and vegetables that are in season are likely to be cheaper.
Final thought
I haven't mentioned the civil celebrant, but their ceremonies usually cost a lot less than weddings.
Using this advice, you should be able to plan a lovely ceremony without too much work or expense. As you would with a wedding, make sure you and your partner are in agreement about all the arrangements!
Enjoy!