What's the point of renewing your vows?
That's a very fair question. After all, why go to the trouble of arranging a (potentially) major ceremony? And it's not just the bother. What about all the expense?
So there has to be a justifying reason for holding such an event.
That's what I want to look at in this blog. (Incidentally, another time we can look at how to mark it, once it's decided on.)
The fact is that there are many reasons why you might choose to be renewing your vows.
An achievement
The fact that you have managed one year as a married couple is actually something to celebrate! And if you've managed more than that, then that's even more laudable!
A lot of people go for an anniversary that ends in 5 or 0. And why not?
Declaring your love
It may sound soppy, when you see it written, but a public affirmation of your mutual love can be a very beautiful thing. Friends and family will love it; moreover, it should strengthen your relationship even more. So don't knock it!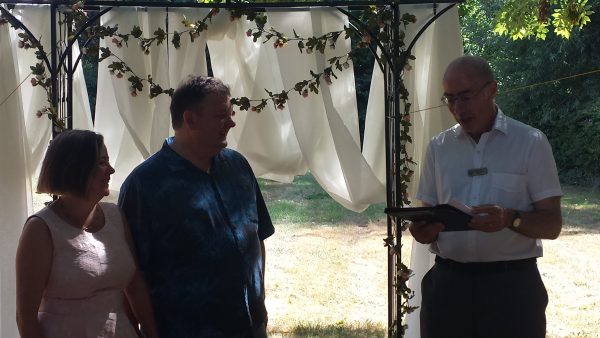 Out the tunnel
You may have had a sticky time of it. Perhaps you've endured either (or both!) of the following problems (or others): financial crises; health issues. The fact that you've overcome adversity and are still together does deserve to be marked.
There may have been fidelity concerns, or worse, but now they're resolved. Renewing your vows would be a public statement of intent. (It could even be – but certainly doesn't have to be – an opportunity for the guilty party to own up and even apologise publicly.)
Changed circumstances
Depending on how long ago you married, things may now be very different.
The vows you promised then may no longer be relevant. You can declare other vows that are more meaningful to you.
You may have children now. You can hold a ceremony that involves them. They can be given a role in the ceremony. Thus the family bond can be strengthened.
For whatever reason, you may not have enjoyed your wedding, and would welcome a second chance!
Thinking of friends/family
What if you married abroad? A number of friends or relations might well have been unable to attend. The good news is that you can invite them to a commitment ceremony/blessing nearer to home.
Thinking of yourself
You may simply like the idea of a good ceremony and party. A vow renewal would be a perfect excuse for that!
The vow renewals I have conducted have been motivated by a number of reasons. What might yours be?
Call me and let's have a chat about it, and see how special we can make your day!