Where to have your wedding? The location is obviously one of the first things that couples want to arrange. For one thing, the more popular venues may be booked up a year or more in advance. Secondly, the atmosphere of the wedding can largely be dictated by the sort of venue chosen, so it's not a decision to be taken lightly.
First considerations
Obvious things to consider are your budget. How much money do you want to devote to this? If you choose a less usual date or time of day, you may be able to secure the venue at a better price. Obviously, you will need estimates, possibly from several venues, before you commit.
The size of the venue is clearly important – you don't want the wedding party engulfed in a huge area, but you certainly don't want to be squashed together for the ceremony or reception. A preliminary visit, together with the events planner, is essential. Be prepared to ask lots of questions and be absolutely clear what the price actually includes.
Would you be intimidated by a castle setting, say, or do you want to push the boat out and go up the Shard or hire a Stately Home? Would something more homely suit?
And go with your gut. Is this a place where you feel you can be really happy?
Logistics
The next question is: are you going to want to have your reception at the same location as your ceremony? If not, you'll need to think about the logistics. Will the party drive from the wedding venue to the reception? What about non-drivers? How long should you allow for this? Will your reception be spoilt, if it takes longer than you think to reach the venue? Is parking going to be an issue?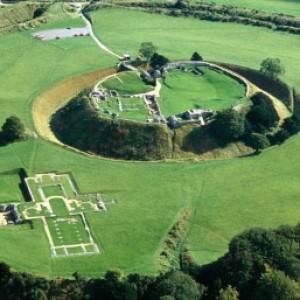 Unconventional Ceremonies
Naturally, the type of wedding you want will also dictate where you have it. If you are planning a handfasting wedding, then you're probably going to have it in a field or at an Iron Age fort, for example. You'll need to get permission from the landowner and you'll have to decide what sort of reception you hold, if any – and where.
If you want a secular wedding, then the registrars have to be involved for the legal bit. If you want them to come out to a location of your choosing, it will have to have solid walls, for example (ie a marquee won't do). So do your homework here.
If you don't want a full religious service (eg church, synagogue, etc) but you want more than the routine register office ceremony, you can have the best of all worlds with a civil celebrant-led ceremony. Then you can have the service that you want in the location of your choice.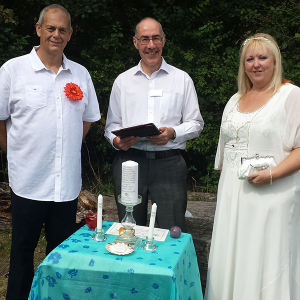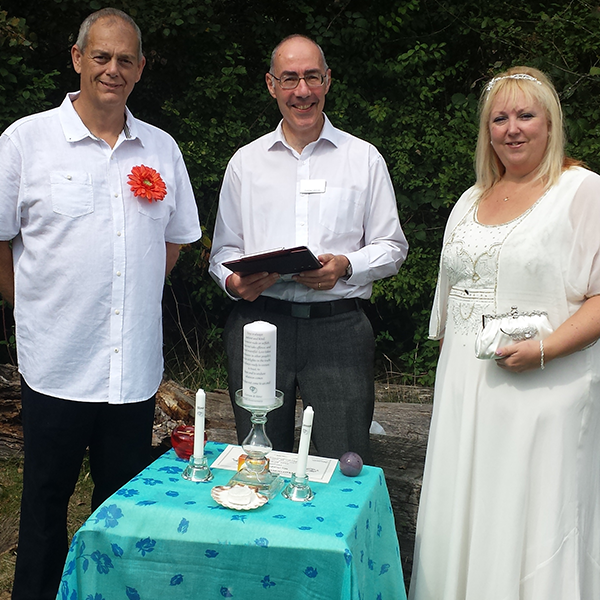 Civil Celebrant limitations
I am often asked what limits my availability, as regards location. Well, I can't conduct a service in a C of E church, but that's about it. Any other location – from hotels and restaurants to the Stonehenge inner circle, to a mountain top, a canalside, a back garden or underwater ( think creative!) – all these are technically available for wedding ceremonies.
I live in Harrow, so I tend to work mostly in London, Herts. and Bucks., but I have conducted other ceremonies in Salisbury, Andover, Worthing , Epsom and the like. I guess that I haven't been further afield because travel expenses inflate the fee. However, I was invited to conduct a wedding blessing in Ibiza last year – unfortunately, to my great regret, I had a clash of dates.
If you're not planning to have your celebration in the South of England, don't let it deter you from asking me for a quote. I'd love to help make your big day really special, wherever you choose. I can be surprisingly flexible!