There's a convincing case for celebrating a wedding anniversary with a Vow Renewal. In fact, I can suggest a number of good reasons.
You're approaching your first anniversary – or a year that ends in 5 or 0. That's an achievement that deserves to be marked!
You simply want publicly to demonstrate your affection and the strength of your relationship
Your circumstances have changed since your marriage – maybe you have children now. You may even want them to be involved in the ceremony
Perhaps your wedding was small or, for whatever reason, a bit of a disappointment
Maybe your circle of friends and relatives have changed, and you want the new ones to be part of your big event
Your relationship might have successfully come through hard times (illness, finance, etc.) and you want to mark that
You might simply welcome the excuse to throw a special party
Why go to the trouble?
A terribly bad reason – but valid, nonetheless – probably suits men, rather than women. Maybe you're coming round to a big anniversary. You might be looking around for a present for your spouse, but you don't know what to do. You could go for a Vow Renewal! The gesture could well be a very welcome surprise, even if secrecy can probably not be maintained very long.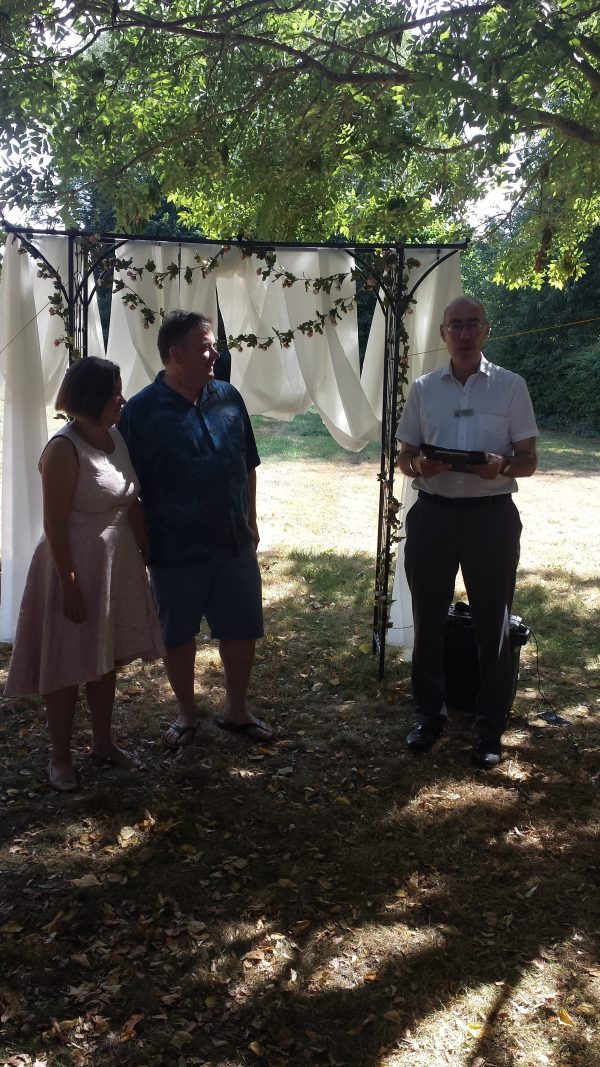 What would it entail?
One thing it would NOT entail is repeating all the arrangements for your wedding. This time it is all about free choice.
You don't have to go through any legal formalities
You can have the ceremony of your choice – no need to be restricted to full religious or secular Register Office ceremony. There's no fixed, standard ceremony that you have to follow. It can be quite informal, if you want. Speak to a civil celebrant for ideas.
You may decide to rewrite your vows. They may no longer be relevant to you now. Your civil celebrant will be able to help you with this.
The budget is down to you. This means that you are not reliant on your parents (and dependent on their wishes and choices). You can decide how much you are prepared to spend and keep it at that. You can decide on what (if any) entertainment will be on offer.
The venue is entirely your choice. You can be quirky and allow your personalities to shine through! The world is (more or less!) your oyster!
Most importantly, the guest list is down to you! No battles or squabbles this time!
A vow renewal is a joyous, beautiful occasion. You can make of it what you will, but you will always have your civil celebrant to advise, guide and even inspire you.
What an opportunity!
Main photo: www.mckinley_rodgers.com