It can be a major mistake to overlook the opportunity to celebrate a Vow Renewal.
Some people assume that it's simply an excuse to blow a load of money. Others don't see the point: so what, if it's my tenth (or whatever) year of marriage?
But you could really be missing out on something special.
Something special

What if you could come away from your Vow Renewal feeling the same as this couple?
"Thank you being our celebrant and putting together our vow renewal, the words felt very personal to us which made it quite an emotionally fuelled ceremony that just flowed but embraced everything we wanted with the readings, blessings of our rings, lighting of our unity candles and finally the signing of our certificate. Our friends and family all commented on how we always do things a bit different and this ceremony and celebration exceeded that. Thank you x"
[C & D – Genuine testimonial]
So what is a Vow renewal?
Essentially, it is an opportunity to reaffirm publicly your marital relationship. You may want to mark a special milestone year – or a new time in your marriage (following ill health, financial difficulties or even a rocky relationship).
Unlike your wedding, there are no legalities to worry about. The ceremony can be as lavish or modest as you choose. It can take place in a back garden, beside a canal, in a hotel or at the top of the Shard. You choose.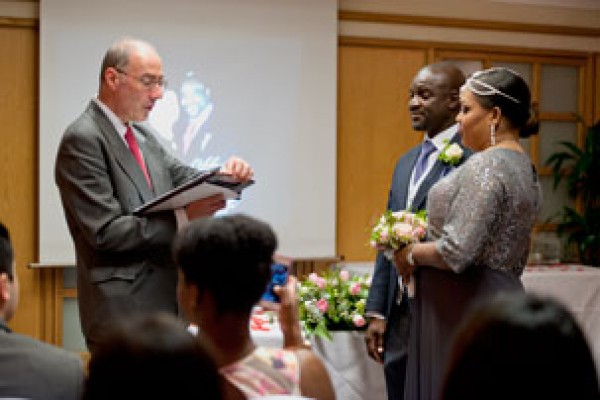 How is the occasion marked?
There is no prescribed ceremony, so if you want a religious or part-religious service, that's fine. Secular is also fine! You want to dress up formally? Fine too! Or come casually? Why not?
How about including friends and/or relatives in the ceremony? Maybe you've got children and you want to involve them? You could include the lovely Unity Candle ritual. You might consider a handfasting.
You may want to have your rings blessed or recite your vows (your marriage ones, or a new set, if things have changed). You may want to play your favourite band's music. The choice is huge.
How you mark the occasion is absolutely up to you  (though your celebrant will gladly guide and inspire you!).
How to arrange it?
This is likely to be a much more informal affair than a wedding. You may or may not offer a reception. It might be a buffet. You can hold it at a place that means something special to the two of you.
You will probably only need to do the following tasks as a minimum:
Book a venue (unless you're using your back garden, say)
Organise the reception (according to the scale you are envisaging)
Book your civil celebrant
Send out invitations
So you can have the people you love and choose around you, as you celebrate your special occasion in the way that you want and dream of.
Isn't that worth considering?
Michael would be delighted to give you more information or help you arrange your ceremony. Just contact him for a non-obligation chat.