Just how easy is planning a wedding ceremony?
Well, OK, six steps may be over-simplifying it a bit, but the principles I'm about to suggest will be a great starting-point.
Bear in mind that not everybody will want the same thing for their wedding, so these comments may be of varying importance or relevance to people with different budgets, of different religions (or none), or  with different ideas of scale, etc.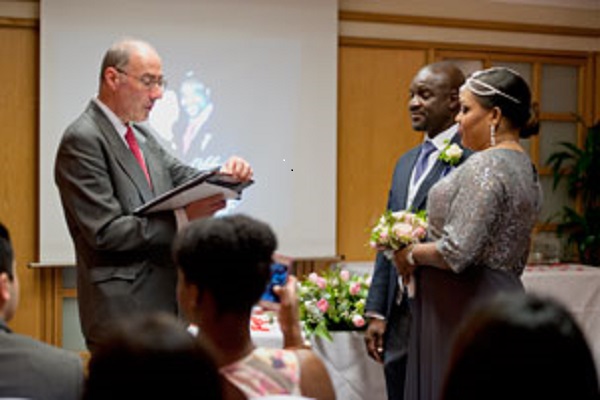 So here goes:
Whether or not you will marry in (say) church or in a civil ceremony, you will need to give official notice of your intentions. Consult with your priest or local register office to get the legal low-down, but, as with all your preparations, allow plenty of time for this.
You will need to book your venue well in advance. If you are choosing a civil ceremony, do go and visit the venue, so you can see if it fits in with your dreams.
The reception may be in a different venue, but, either way, go along and book it earlier rather than later. Start thinking also about who to invite and, eventually, about seating plans, if any.
Book your civil celebrant well in advance (they get booked up too). Meet them first (or, at least, Skype them), because you'll want to be sure there's going to be rapport between you. After all, you'll have to work quite closely with them. You'll need to decide on the type and tone of service you'll be having. (Obviously, there's much less freedom here if you're having either a full religious service or else a register office ceremony.) If you're having a civil ceremony, you'll want to discuss the content, so that it can be personalised for you. Finally, make sure you are happy with the Ts and Cs before making your final decision (as with all your suppliers). An excellent place  to start looking is at www.vowsthatwow.co.uk – well, I would say that!
Start thinking about the music you want to include. (Again, your celebrant should be able to advise you.) Consider the sound system and also any musicians you may want to use.
Start booking your other suppliers. These may include florists, a toastmaster, photographers/videographers, cake-makers, caterer, dress or suit supplier, post-ceremony entertainer, hair/beauty treatment, guest accommodation, etc.
If you want a concise, easy-to-follow (and modestly-priced) guide that will take you virtually every inch of the way, then have a look at my recently-published "Your Wedding Guide".