So it's the unofficial start of summer tomorrow?
As I write, the wind is blowing wildly, the rain lashing down and the temperature is nothing to write home about. Plus ca change?
If you are planning an outdoor ceremony, it pays to be a gambler, especially in this country.
What do you do if you end up with weather like today's? Obviously, you'll need to have considered a Plan B.
Plan B
There may not be many options, if you're celebrating a ceremony at the seaside, up a mountain or at Stonehenge (which is notoriously exposed), but there are a few things that can be done.
I'm doing a handfasting at Stonehenge this midsummer's day. I am expecting extremes of climate, so I'll be bringing a couple of golfing umbrellas and either or both of sunscreen or a hat. (I'll leave my decision about pullovers and the like till the day!)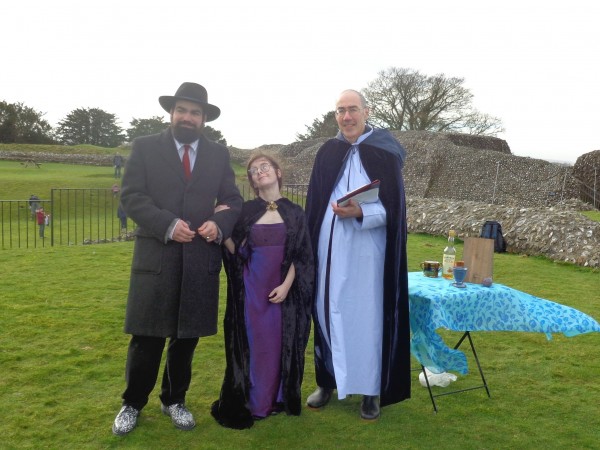 If you're holding an outdoor ceremony at a "safer" location, such outside a barn, you may be able to arrange beforehand that there are umbrellas (or parasols) available. You also ought to consider arranging for jugs of water and paper cups to be at hand, in case the weather lives up to the billing of "summery".
You may also have to think about supplying fold-up chairs, especially if you are expecting a number of older or disabled guests.
Access
Another potential problem is access. How to guests find the venue, especially if it's in deepest Nature? (Is parking going to be adequate? Do joining instructions include satnav instructions? What about toilets?) You'll need to be really precise about meeting times and places. It might also be worth advising guests about wearing sensible clothes/shoes, not least if access may be, for example, through a boggy field or up a stony path.
If you're having a reception afterwards, you'll need to ensure that directions are clear. (You may also need to warn the venue that timings can't be guaranteed.)
Audibility
Another factor that you will have to think about – or your civil celebrant may be able to help you with – is the acoustics. If you're outdoors, you may have to contend with aircraft, neighbours mowing their lawn, the crashing of breakers on the sea, or the like.
As people are going to want to hear every word being pronounced, you are going to think seriously about lay-out. Presumably, you won't have a sound system up Ben Nevis, or wherever, so the celebrant will need to be able to project his voice loudly and clearly. Guests will also want to be able to hear any words/vows that you may be uttering.
Weighing it all up
It's simpler and safer to hold an indoor ceremony. An outdoor one risks being memorable for the wrong reasons ("Do you remember X's wedding, when we all got deluged/when the candles blew away/when we all got sunstroke?").
However, if you're prepared to take a risk or two (and consider what to do, if things don't quite go to plan), an outdoor ceremony can be utterly special and fabulous.
What will you opt for?