To many people, a wedding needs to be either fully religious or else secular (held in the register office). Well, those won't float everybody's boat.
Fortunately, you do have wedding choices. One is to opt for a civil celebrant .
Lots of people don't know that civil celebrants even exist, so here are some Qs & As that should be beneficial.
Can a celebrant marry me legally?
The short answer, according to current English legislation, is no. However, there are two workable options to allow you to marry legally and also to enjoy the ceremony that you actually want.
1)      you can have registrars in attendance (provided the venue has the appropriate licence); when they've done the legal bit, they leave and the celebrant can take over and deliver your bespoke ceremony.
2)      you can marry legally (with 2 witnesses) at the Register Office the morning or day(s) before the ceremony. The celebrant can then conduct what to all intents and purposes is a full wedding or a wedding blessing ceremony (in the venue of your choice). That way, everything is covered.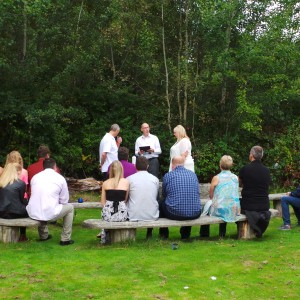 What's the difference between the Registrar's and Celebrant's ceremony?
The short answer is personalisation.
A registrar will follow a script. Their ceremony must contain no religious references. The time-slot is limited (there is usually a 'conveyor-belt' system in operation). You won't normally have met the registrar who will be conducting your wedding.
Certain words have to be said (to make the marriage legal).
None of the above applies to a civil celebrant.  The celebrant offers personal and bespoke service. You can choose what goes into – or is left out at-  your ceremony. You also have freedom of choice of venue and even hour.
Would it be a humanist service?
It depends on the celebrant. A humanist, like the registrar, is not permitted to offer any religious content. I am not a humanist, but I can conduct secular services. I tailor the service absolutely according to your beliefs and wishes. I have conducted a wonderful handfasting wedding, which was a fusion of paganism and Judaism!
How are celebrants overseen?
Many celebrants belong to a body that has strict codes of ethics (I belong to the AOIC, for example). These normally ensure that standards are being adhered to, although, in my experience, celebrants  are professional, competent and trustworthy.
What about fees?
These will vary between celebrants and, obviously, need to take into account travel, possibly, board and lodging, and any unusual accessories requested.
The amount of work that will go into creating and performing a ceremony will depend on the type of ceremony required, so there's no hard-and-fast rule. Personally, I usually give clients a firm quotation after our initial chat.
My fees include plenty of contact with clients and as many revisions to the script as we need. Naturally, I conduct the service too. There are details of what is included on my website (www.vowsthatwow.co.uk) and I always send a clear summary in my Ts & Cs, once I have had the introductory chat with my clients.
What restrictions are there to the ceremony?
Beyond what I have already mentioned (especially on the legal side), as long as your requirements are within the realms of decency and reason, you can have what you want at your wedding.
If you want to dance down the aisle or wear Superman outfits, you can!
You can get married where you want (within reason) – that includes outdoors, of course, and could be in a hot-air balloon, say
Your ceremony can include your choice of music, readings, rituals and participants
The idea is that I work together with you towards your big day. The ceremony should reflect your personality and be fun (where appropriate), meaningful and memorable.
That's where a good celebrant comes in …
Please contact me for a chat.
Featured image: www.lyndseygoddard.com