Earlier this week, our guest blogger, professional photographer Neli Prahova, helped us enhance any wedding photos that we might feature in. She looked in particular at hands, legs and body. Now we'll consider a few more vital areas.
The head
Just like the shoulders, turning the head slightly to a three quarter position makes a wide face or jaw-line seem slimmer. Therefore, unless I intentionally photograph the person straight on, I always recommend the bride or the groom to slightly tilt their face to one side. It also helps stretch out the neck area, which helps avoid double chin problem.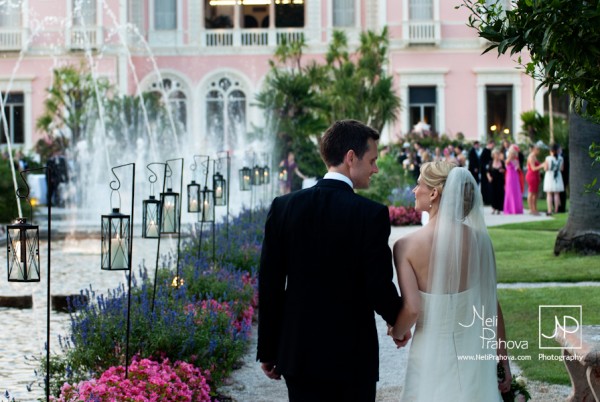 The kiss
It's always a fun moment during the photo session when we come to the 'kiss' photo, as a lot of couples can hardly wait! However, it often all ends up with quite a lot of squashed lips and noses that do not look very flattering. I therefore recommend  that the couple, when posing for a more formal kissing photo, pause for a second, millimetres from each other, just before the actual kiss. This not only shows both faces in a more elegant and beautiful way but also make the kiss look more natural.
Allow plenty of time
It takes time to create good wedding photographs and an extra bit longer to do something creative, so don't expect five-minute masterpieces. Whereas in the US, couples allocate up to 2 hours for their wedding photography, in the UK most wedding photographers recommend at least 20 minutes for wedding portraits. If you only have 10 minutes, that's fine, just be realistic about what can be achieved. People simply need to be aware that the more time they allow for the photos, the more creative wedding photographs can be produced.
Enjoy the moment
Finally, don't forget to enjoy the moment while being photographed. Couples often don't realize that their wedding photo session is one of the few moments during the wedding they can spend on their own. After the more formal photos I switch to my long lens and step back and leave the couple to enjoy themselves while I take more relaxed casual portraits. The easiest way to get a natural smile is to think happy thoughts. I often ask the couple to share their feelings about the wedding so far. I urge the couple to concentrate on each other rather than what I am doing. Some of the best photos come when you forget you're being photographed.
Last piece of advice to all couples however is – choose a wedding photographer with whom you have a good rapport. They will be the one to help you relax in front of the camera. I always include in my packages an engagement photography session. This not only gives a few nice photos of the couple but gives couples the chance to get to know me better and practise some of the poses. It also helps overcome nerves when being photographed.
For further information on wedding photography in London or destination wedding photography please contact Neli on nprahova@gmail.com. To view Neli's portfolio of wedding photography in London, France, Monaco, Italy, Cyprus, Greece, Portugal, Switzerland, California and Russia please visit www.NeliPrahova.com.
Neli is guest blogger for Michael Gordon
Michael Gordon is a civil celebrant based in London.