Why on earth would you contemplate a second wedding ceremony?!
It often happens that people aren't able to attend a wedding. Any of illness, injury, infirmity or travel problems may play their part. Or, possibly, a major commitment that can't be changed will mean missing the event.
The wedding may be a destination wedding or be held in a constricted space, so guests are necessarily limited.
So what about those who cannot attend, but would have liked to?
Solutions
Of course, there may possibly be live streaming or perhaps the event will be made available on video for later viewing. However, these are not really the same as being present at the event.
To deal with this situation, a lot of people nowadays are arranging blessings or a second wedding ceremony, usually civil. So, for example, a couple may fly out with a few close friends and family to a Greek island, and actually get married there. Then they come back to their home area and hold a ceremony (in a hotel, back garden or restaurant, for example).
What does the ceremony consist of?
Your civil celebrant will be able to give you tips and, of course, will go with what you have decided, so there's a wide range of possibilities.
The event can be staged like a 'real' wedding – so the bride may wear a white wedding gown, and there may be a ring blessing, recitation of vows and other elements. It can be quite formal and even include a (not legally valid) certificate-signing (mainly, a photo opportunity, but also a lovely souvenir); there may be elements of a traditional wedding mixed with rituals that can be fun or more spiritual; and then, it may stretch to the totally informal, and include, say, texts and music that the couple really like. Again, there may be any degree of religiosity.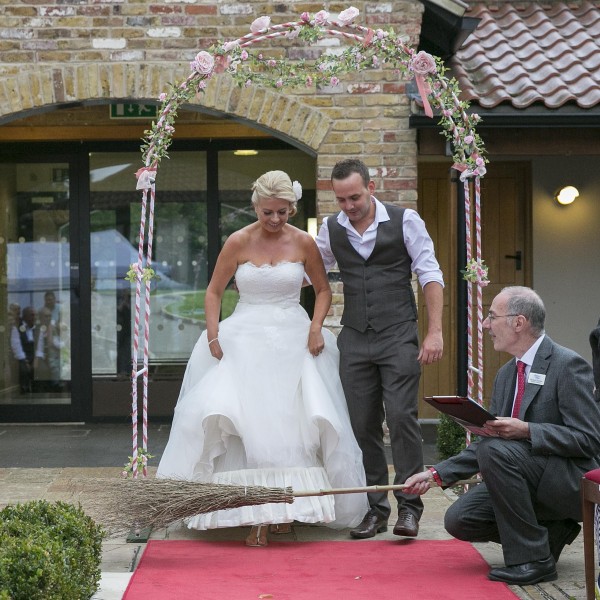 The couple will be able to choose rituals (if they wish), like 'jumping the broom', readings and the participants.
They will be able to hold a creative, memorable, moving ceremony that reflects who they are, what they believe and is everything that want it to be, in front of all those guests who couldn't make the original ceremony. That's pretty exciting – and the ceremony may be every bit as wonderful as the actual wedding.
How great is that!