It's certainly not uncommon for couples to embark on their second marriage. A potential complication can arise when either, or both of them, has children.
How should these be involved in the ceremony?
Of course, this is a matter of choice. They may prefer to stay on the periphery – or you may decide that they should keep a low profile. A lot will depend on the age of the children.
Here are some suggestions that might work well, particularly with teenage children.
Planning
Your children could contribute towards the choice of music at the reception. You might be surprised at what they actually ask for – and it will be special if they are out on the dance floor (voluntarily) from time to time.
If they are artistic, children may be able to help create the ceremony décor; very musical ones might be able to sing a bit at the service, accompany the music on guitar etc. (if up to it!) or simply do a reading.
Children might be allowed input into the choice of menu at the reception – especially if they are getting a different meal.
Do give each of the children a role, and, unless it is unavoidable, don't leave anyone out.
Invitations
If you can afford it, why not let your friend/daughter invite a friend (each)? Even the moodiest of teenager will appreciate the gesture, and your kind thought may spare him/her from what can be a fairly isolating experience.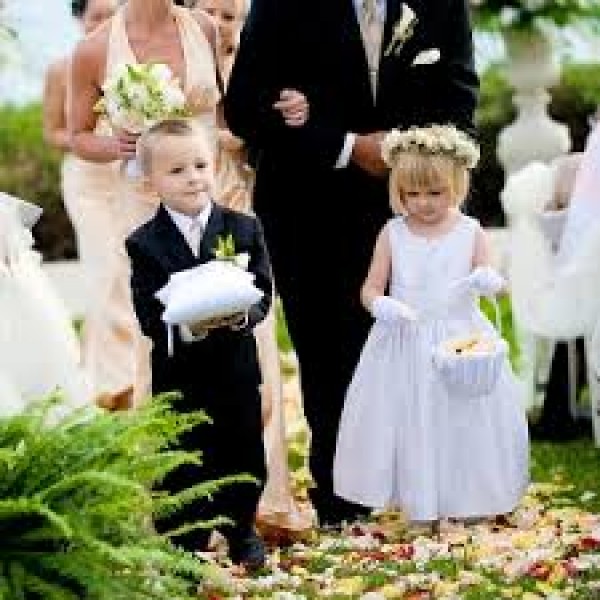 The Ceremony
There are plenty of ways to involve the children in the ceremony itself. Traditionally, they can be asked to be ushers (groomsmen) or bridesmaids. But younger boys could do the Best Man bit with the rings (although I understand it, if that is considered by some a risky move!). They could be the ones who give Mum away at the start of proceedings.
Unity Rituals
A lovely idea is to ask the children to participate in a ceremony ritual. They could make vows to their new step-parents (who could reciprocate). They could be part of a sand-blending ceremony, but my favourite is the Unity Candle.
Provide each child with a taper and (health and safety permitting!); they and the couple all use the tapers to light the Unity Candle at the same time. The symbolism is strong and affecting.
Make the children feel special
After the ceremony, children could help usher guests through to the reception. Then, with age of course a determinant,  an older child could propose a toast at the reception.
They might be given flowers to present to their mothers or new step-mothers at the time of the speeches.
Depending on the child's maturity, he/she could be allowed a very short speech.
Dancing with the step-parents can be lovely  (although it may be as well to warn the step-child well in advance!).
As the children (like it or not!) are joining a new family, it makes a lot of sense to include them wherever possible on and maybe before the big day. If you can start bonding with them in early days, that has got to be for the best.
Michael Gordon can help prepare and conduct a tailor-made civil ceremony in or around London, or, indeed, in Europe.