Having recently conducted a wonderful same-sex wedding, I started doing a bit of mulling. Presumably, there are major differences between  heterosexual and same-sex ceremonies?
Dress
In this particular case, as you can see, one spouse wore a white wedding dress; her partner wore a lounge suit and tie. Obviously, formality was what the pair wanted, and that fitted the bill.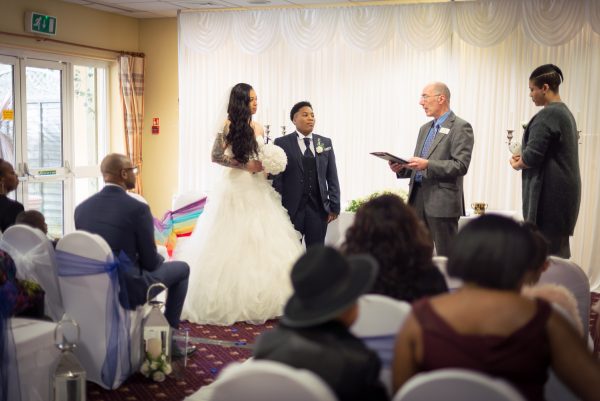 So one tick on the list of similarities straight away.
Family
Probably not so simple. What if the family opposes your marriage?  Especially if it's same-sex.
There are plenty of examples, however, of obstacles being placed in the way of heterosexual couples, so this is a similarity,  rather than a difference.
Incidentally, a possible solution to this problem is to use diplomacy. You may be able to encourage the parent (or whoever) to feel more positive by inviting them to participate in some way in the ceremony, for example, by doing a reading. Or you might assure them that you will (still) visit them as regularly as before at weekends/holidays etc.
Of course, you should get them to meet and get to know your partner, preferably informally. If the charm offensive doesn't work, then think about asking your officiant to have a word.
If you want a religious (or part-religious) ceremony (or your parent does), then you can always use a civil celebrant like myself.
So not that different, whether the wedding is same-sex or heterosexual.
Suppliers
A few venues may have problems with gay ceremonies, but decreasingly so. In the same way, some suppliers may not want to work with a same-sex couple. You may recall that an intransigent anti-gay cake-maker in America was prominent in the news a year or two back. The fact that that was a big news item highlights the rarity of such an occurrence.
Problem areas
The only area that may cause a problem in a single-sex ceremony, as opposed to a heterosexual one, lies in vocabulary. Is the couple to be referred to at the end as "Mr and Mr Jones" or "Mrs and Mrs Smith"?
 It's possible that some of the readings will need a bit of rewording, but essentially the same-sex and heterosexual ceremony should turn out to be much the same.
The celebrant can always alternate the names, so it isn't always the same person being addressed or referred to first.
As we have seen, the differences are actually not so great between heterosexual and same-sex ceremonies. I hope that will reassure you that absolutely nobody needs to be put off from arranging a same-sex ceremony!
Don't forget that I can help out! Just send me an e-mail or give me a call.