Holding a destination wedding can be really exciting and exotic. Flying off to a romantic spot, getting wed, bathed in warm sunlight, surrounded by your nearest and dearest, certainly takes some beating.
Do start the booking process early. The venue may fill up sooner than you'd think. Be aware also that there may be different legal requirements where you are going, which may take time to sort out. (And make sure your passports are up-to-date!)
Do plenty of research – it might pay to use a wedding planner, either in this country or in the resort you are choosing, to supply the information you may need.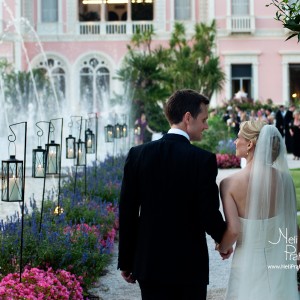 Money
Set your budget (and keep to it!). Who is paying? Do you pay for the accommodation and flights for your guests, or must they? Get everything in writing, and don't pay for anything up-front, if you have doubts about it.
Tickets
Brides, don't forget to book airline tickets in your maiden name (unless you are legally changing your name before you marry). It can sometimes be worth dropping into the conversation that you are off to your wedding. You may just receive some lovely little freebies on the day.
Clothing
A wedding-gown can be taken onto the plane as carry-on luggage (don't wear it for the flight!). Your wedding shop ought to be able to pack it up for you.
Bear in mind that a heavy train may not be ideal, especially if you're getting married on a beach. Flat shoes or sandals will be the best bet for a beach wedding. You also need to consider the fabric (eg chiffon or silk) of the dress, if you're easily affected by heat.
Arrival
It is worth arriving early, before your guests, so you can have a rest and acclimatise. Arriving early gives you the chance to sort out certain details at the venue.
Ceremonies
Although venues may have their own celebrants on site (or access to some), increasingly, people prefer to know who they're dealing with. You don't want your wedding ceremony conducted by somebody who may not like or trust!
Consequently, some couples are bringing their own civil celebrants out from the UK with them. It may add surprisingly little to the costs you have already committed to, especially if you are making block bookings through a travel agent.
To ensure that your dreams turn into reality, so that the ceremony is just as you want it, do contact Vows That Wow, and let Michael look after your big day for you.