I consider myself so lucky that I am doing a job I absolutely love. (Maybe "paradise" is a wee bit strong, though!)
Bonuses
As a civil celebrant, I am privileged to be taken into the confidence of people. Obviously, these are often people I might never even have met otherwise. They talk openly to me. Sometimes I learn things close members of the family or friends don't know. I spend time with them and work closely with many. They are often fascinating and lovely people (although no two visits are ever the same!). And, of course, I am there at the front with them on the big day, facilitating their event and supporting them.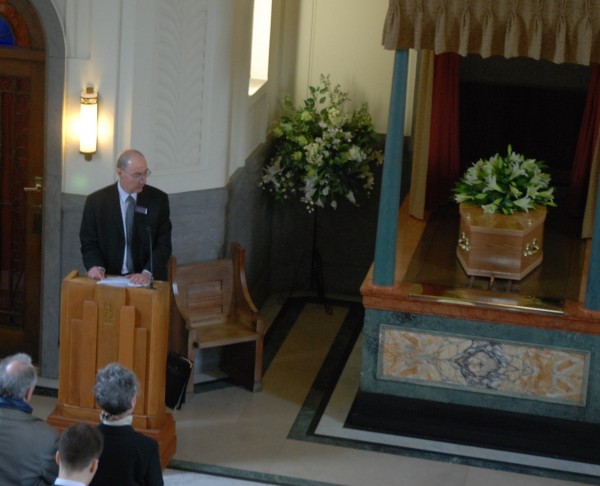 It may surprise you that I bracket funerals and weddings (and other joyful occasions) together. However, in my work there are distinct similarities between them. I may have over a year to prepare a wedding (although I have been given as little as a few weeks!) A funeral normally has about a week's incubation time.
In both cases, I need to visit/Skype the relevant people, ask the necessary questions, listen to them and their needs, send them drafts for approval, and create the ceremony that reflects their personalities and beliefs. But the time-frame is different.
Down side
There aren't too many things I dislike about what I do, which is wonderful. However, I have refused two possible pieces of work.
In the first case, I was invited to quote for a naturist wedding. Since I believe in being as relaxed as possible on the day, as a priority is to put my clients at their ease, I felt it unwise to pursue this. Even as a professional public speaker, I think I might have felt too self-conscious!
Secondly, I was on an introductory Skype call with a certain Ashleigh in Essex. She was very sure what she wanted for her wedding. That's fine – I am happy to share ideas and advice, but I am not offended if people go with a different vision. However, after a while I noticed a man in the background. I wondered if he could be the groom. Indeed, he was.
"Why don't you invite Steve to join the call?" I asked.
This is what Ashleigh replied: "He's having nothing to do with the wedding. He'll just turn up on the day and do what I tell him to!"
I didn't feel that there was much of a future working with Ashleigh!
My biggest regret
I do have a couple of regrets.
I missed out on a wedding between a delightful mixed-faith couple because one parent ruled that if the celebrant wasn't ordained (which I am not), then she would boycott the wedding. (Sorry, whose wedding was it?!)
At one of my funerals, a particularly requested hymn was not played. Why not? Because the technician popped out briefly, and totally and utterly missed his cue! It something you can't legislate for, but I felt we had let the family down.
I've always fancied a destination wedding ceremony. At last, I had an offer to conduct a (re-arranged) wedding in Ibiza. Sod's Law prevailed because it now clashed with the only holiday I had booked for our family all year. I had to say "no".
Achievement
What am I proud of?
Bringing joy, for one thing.
I'd like to think that my website testimonials page speaks eloquently. But at several funerals, I have been pleased to be told, "I don't know if I should be saying this, but I really enjoyed it."
I'm proud of serving people.
On one occasion, a daughter didn't want a funeral for her, shall we say, "difficult" father. I suggested that she should do as she felt fit. I implied that it might be worth going through with it. She wouldn't be able to turn back the clock later, if she regretted having opposed it now. In the event, she agreed to it and was able to release much emotion. Her gratitude afterwards was very moving and also satisfying.
Oh, I do have one more regret: I only wish I had found out sooner about my path to paradise!