People often assume that – apart from about a week's turnaround for a funeral – I always have loads of time to prepare for a ceremony.
I was reminded of that only yesterday when I was approached to do a wedding blessing in nine days' time!
That in turn reminded me of a bright July day. My family and I were leaving to go on holiday abroad. Our bags were actually on the doorstep when the phone rang. I was tempted to ignore the call, but my wife decided to take it.
It turned out that it was the daughter of a man who had (re)married last year. He had then suffered a massive heart attack and not worked since. His wife, Aretha [not her real name] had nursed him back to health, as well as earning an income. Now he was well again, they wanted to have the wedding party they had never had. He is C of E and she is Catholic, so they wanted their new rings blessed, which is where I came in.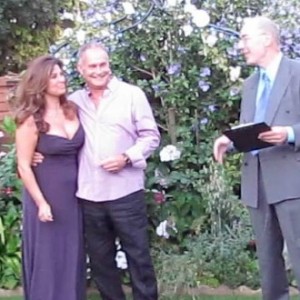 The problem was that they were giving me all of eight days' notice! (I could not work while I was away and I would only be returning late the evening before the event, so it would be asking quite a lot to prepare a ceremony properly in, effectively, a couple of hours.) I explained this to them and said that, if they could not find another celebrant (I passed a name on to them), I would do it for them, provided I had an e-mail waiting for me on my return.
In the event, there was no e-mail, and, as I was free that Saturday, I went out till about 1.30 p.m. When I came back, there was a message for me, asking me to contact the husband on his mobile after 2 p.m. The job was on after all!
The plan was to surprise Aretha (who had done so much for the husband in the last year). I normally meet with clients in advance, find out exactly what they are looking for, compile the service, e-mail it across for their approval, and make any changes requested. This time, all I knew was the background to the ceremony and that they wanted 'a little religion'.
There is a happy ending to this story. I managed to plan a ceremony (all of seven or eight minutes long!), and it turned out to be appropriate to a party, where none of the guests had an inkling about the ring blessing. There was a mixture of serious readings and humour that went down well. Aretha was moved to tears, the guests seemed to enjoy it (it was a new experience for them – AND it was not over-long!), and the family clearly appreciated it. A mad rush, perhaps, but it gave me (and, I trust all present) a feeling of real contentment.
Being a celebrant is never boring – and can be such a delight! Just don't go telling me that it's always relaxing!
Source of featured image: headstride.co.uk