Mixed marriage is very common these days.
Not everybody can – or wants to – marry in a religious institution. Catholics will not allow divorcees to marry in church; same-sex ceremonies are not permissible in many churches; Christians and Jews, for example, can't be married in either church or synagogue.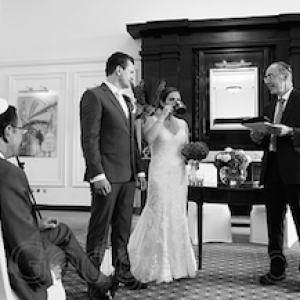 Photos: Philippa Gedge Photography
Of course, Register Offices offer an alternative (for any marriage, a registrar must always be involved to cover the legal requirements), but their services are standardised and limited (though they will suit some people fine, of course). These services must be totally non-religious. Which means that they often do not meet the needs or wishes of the couple or their families. That's where the (non-humanist) civil celebrant can come in.
The civil celebrant will work with the couple to design the service that fits in with their beliefs. So it may be religious, part-religious or totally secular. It may contain rituals from a variety of religions and/or cultures.
The service will also be exactly as the couple want. So it is up to them what clothes will – or will not – be worn (I have been asked if I'd do a naturist wedding!). The couple can choose readings or poems, and also readers. There can be an address by the celebrant – checked in advance by the couple. They can have the choreography that they want, including the music. In short, absolutely everything can be approved by the couple before the day.
Logistically, there are a couple of decisions to be made.
Should the register office ceremony take place a few hours – or a day or two – in advance? That way, the legal bit is covered by the time the couple come to the 'real' wedding ceremony, and they can relax and really enjoy their bespoke ceremony.
Should the civil ceremony or blessing come straight after the legal marriage (at the same venue)? The ring blessing, for example, could be done by the civil celebrant, as could the vows. This way, the registrars could conduct a 10-15 minute ceremony, and the blessing ceremony could take around as long (depending).
The important thing on such a big day is to enjoy a memorable, meaningful ceremony – one which the couple and their guests will remember fondly for months and years to come. By creating a personalised service and conducting it professionally, a good civil celebrant will ensure this.