Mixed-faith ceremonies were virtually unthinkable a dozen years ago. Fortunately, we've moved on. They are much more accepted (and desired) nowadays.
Of course, there is a need. If a couple want to marry religiously, they may be prevented from so doing because of their church's rules. So a Catholic divorcee will not be able to marry in Church. Same-sex ceremonies are still not accepted by many churches. Mixed-faith couples have the same problem, although some more enlightened institutions may be willing at least to bless the pair.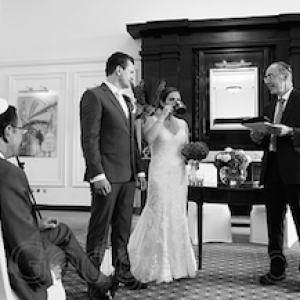 Photo: Philippa Gedge Photography
Not every mixed-faith couple wants any religion, and the Register Office may fill a gap. (Obviously, all marriages need to be registered officially in this country.) However, Register Office ceremonies are fairly standard and sometimes reek of the conveyor-belt.
An alternative can be a ceremony compiled and led by a  civil celebrant (possibly, but not necessarily, a humanist). The celebrant can create a spiritual, beautiful ceremony – but such a ceremony does not have legal validity.
The Registrars' service will be totally secular. There may be absolutely no religious mentions or readings, which may not meet the needs of the couple (or their families).
A civil celebrant will be able to meet the pair's needs, if they want a part-religious ceremony. The celebrant may not be ordained, but can still include religious elements (usually agreed with the couple).
In fact, the civil celebrant will work with the couple to design the service that fits in with their beliefs. So it may be religious, part-religious or totally secular. It may contain rituals from a variety of religions and/or cultures.
The service will also be exactly as the couple want. It is up to them what clothes will – or will not – be worn (I have received special requests about my garb – but not, as yet, to wear a football shirt!). The couple can choose readings or poems, and also readers. There can be an address by the celebrant – checked in advance by the couple. They can have elements that they want, including the music, in the order that they want. (The celebrant may well offer advice.) They may choose to deliver their own vows. In short, absolutely everything can be approved by the couple before the day.
Logistically, there are a couple of decisions to be made.
Should the register office ceremony take place a few hours – or a day or two – in advance? That way, the legal bit is covered by the time the couple come to the 'real' wedding ceremony, and they can relax and really enjoy their bespoke ceremony.
Should the civil ceremony or blessing come straight after the legal marriage (at the same venue)? The ring blessing, for example, could be done by the civil celebrant, as could the vows. This way, the registrars could conduct a 10-15 minute ceremony, and the blessing ceremony could take around as long (depending), but cover the couple's wishes.
The important thing on such a big day is to deliver a memorable, meaningful ceremony – one which the couple and their guests will remember fondly for months and years to come. By creating a personalised service and conducting it professionally, a good civil celebrant will ensure this.
Please ask Michael for more information.