You may have seen photos on my website of one particular wedding where I officiated. They bring back lovely memories for me (and, hopefully, for the couple concerned!). I thought I'd share the story of their wedding with you.
Lucy and Dave had already married on Skiathos in front of a few close friends and relatives. They wanted to share their happiness with their wider circle. So a wedding blessing was fixed for a Friday in August –  an outside ceremony near a converted barn in the Enfield/Cheshunt area just north of London.
It had been quite a hot day, and the 5 p.m. start avoided the worst of the heat. Unfortunately, although almost everybody was ready then, that wasn't the time the ceremony actually started. News filtered through that the best man was stuck in traffic on the M25 motorway. And before anybody asks why he hadn't left home sooner, the fact was that he had actually been at a job interview (successful!), and had been unable to get away sooner!
So a few drinks were consumed and we all settled down to wait. While Lucy stayed secreted with her entourage, Dave was clearly a bit nervous, and this delay didn't help him.
Another consequence of the delay was that the weather started to turn very noticeably.
However, an hour or so later than scheduled, with the best man refreshed and ready, Dave and I were positioned under a lovely floral arch. Lucy made her entrance up the red carpet leading to us. What a picture! She was radiant, resplendent, confident that all eyes were fixed admiringly upon her and her approach was stately.
The service of blessing began. After my welcome, and mention of absent friends, I talked briefly about Lucy and Dave's story that nearly never happened (as Dave had chickened out of popping the question when the time seemed right). Anyway, the next time the opportunity arose, in Warwick Castle, he pretended to offer Lucy a chocolate bar; when she unwrapped it, she found a ring.
The ceremony continued, but about this time, a wasp decided to get involved, and it buzzed around the three of us very persistently. This didn't help Dave's nerves, or, if I'm honest, mine. Lucy was seemingly imperturbable, though.
This being Britain, "the show had to go on", and as we proceeded to readings about love and then words of wisdom about marriage. This seemed to interest the wasp rather less. Unfortunately, there was a practical reason for this, which was that the heavens decided that this would be a good time to open!
As the celebrant, I felt that, although we still had a few minutes left ahead of us, we could hardly stop the ceremony. So we moved on to the significance of the rings. As we three were getting decidedly damp (most of the guests had fled for some nearby shelter), an enterprising bright spark picked up a table parasol, opened it and brought it up to the front so that Lucy (though not we men-folk) could be protected. This caused a good deal of merriment, and helped Dave to relax.
As the shower passed, I recited the lovely Apache (Navajo) wedding blessing, with its rather ironic (in the event) beginning:
"Now you will feel no rain, for each of you will be a shelter for the other. Now you will feel no cold, for each of you will be warmth to the other. Now there will be no loneliness, for each of you will be a companion to the other. Now you are two persons, but there is only one life before you. Go now to your dwelling place to enter the days of your togetherness. May beauty surround you both in the journey ahead and through all the years. May happiness be your companion, and may your days together be good and long upon the earth."
Lucy and Dave had been adamant when we were planning the ceremony that there should be some light-hearted elements. So before we ended, there was the pagan "Jumping the Broom" ceremony. I explained that Lucy and Dave would together jump over the broom to symbolise a new beginning, a welcoming of the new – sweeping away old cares and worries. "This represents entering into a new life of husband and wife. The wood represents the strength of the commitment in the marriage. The leap symbolises joyfully taking the leap into married life together."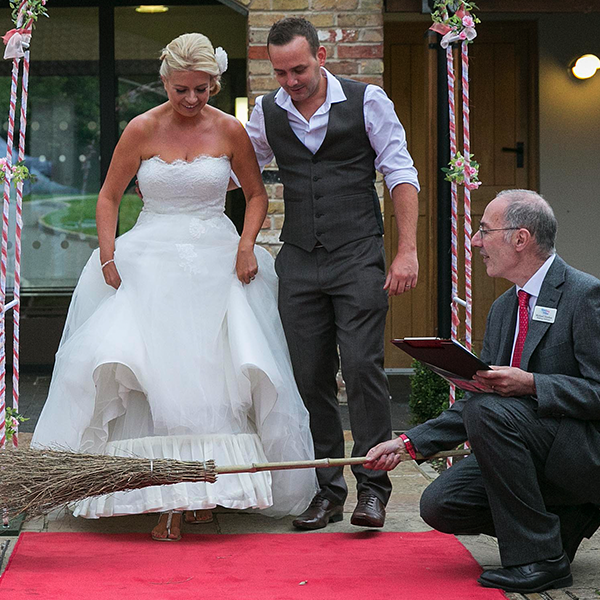 I then held the broom some two feet above the ground and invited Lucy to hurdle it in her dress. To the onlookers' delight, she looked aghast, as was the intention. Of course, I then lowered it to a few inches above the ground!
It was a lovely, warm occasion for a delightful couple; everybody had a smile on their face, and there's an even happier end to the story: twins for the pair a year or so later!
Wonderful memories, indeed!