This is my third and final review of luxury London venues for your wedding/vow renewal. I rather wish it wasn't coming to an end – reviewing these establishments wasn't much of a hardship, in truth!
[Please note that my disclaimers (from my previous articles) still apply.]
The Rosewood
The Rosewood in High Holborn could hardly be more central and convenient. The signage was so discreet that I wasn't sure which of the doors led to the Reception!
However, once in, I was very impressed by the appearance. Only three years old, at the time of writing, the hotel looked well cared-for. It was spacious, elegant and classy (without being snooty).
I'd love to have included my photos, but something went amiss. At least, here's one picture (from the website), and that will give you a feel for the place.
Service is very important, clearly, and anyone who books a wedding here will be well looked-after. The ballroom, which includes a PA system, can take 280 people, and its foyer around 240. There is also a "living room" (capacity c. 30) and dining room (c. 20). Both the latter could be ideal for a smaller event, such as a Vow Renewal.
The Rosewood have recommended suppliers and would organise whatever is required. But as quite a number of weddings here are Jewish, outside kosher catering is brought in. You can arrange most other suppliers yourself – florists, for example.
Stylish and professional, the Rosewood will not be cheap, but you will surely get what you pay for here.
The Lanesborough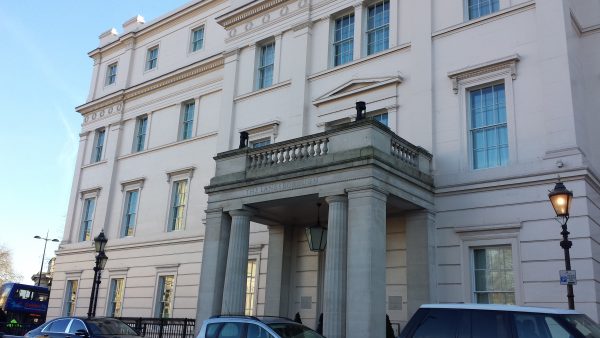 The Hotel is in a remarkable location. It is situated on Hyde Park Corner (literally), in a beautifully restored 18th century building that was once a hospital (now St George's, Tooting).
It is flexible, as far as meeting the needs of its clients is concerned, and has a variety of rooms suitable for weddings or vow renewals of differing sizes.
I believe the hotel's reputation speaks for itself – the decor is glorious and I appreciated the friendly attentiveness of the staff, who clearly aim at keeping the customer happy. They are only too pleased to help.
The Goring
Perhaps surprisingly for Central London, The Goring is still a family-run hotel (and has been for over a century). It has been much frequented by royalty, so the decor is opulent and the service discreet, but thoroughly attentive. The Goring is the only hotel in the world to be granted a Royal Warrant by HM The Queen for Hospitality Services.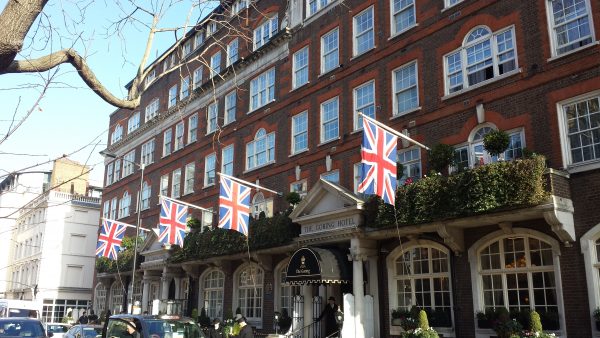 There are two rooms suitable for holding a ceremony and reception:  The Drawing Room and The Garden Room.  They are both intimate and intensely tasteful. The Garden Room has its own private sunken terrace, which leads to the unexpectedly large and attractive private garden, with its own private terrace, which is a lovely feature.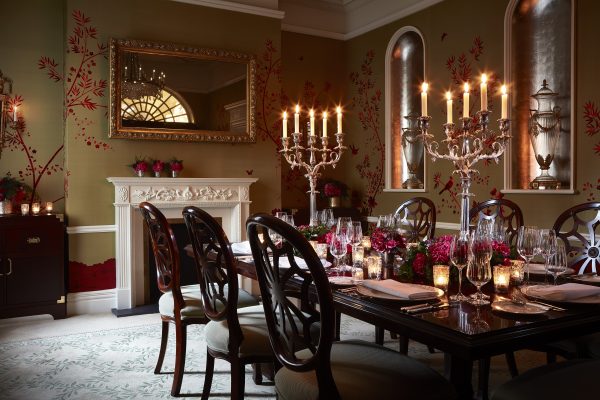 The Drawing Room at Night
The hotel, full of lovely chandeliers and tasteful decor, oozes class, yet does so without pretension. For enquiries, please email privatedining@thegoring.com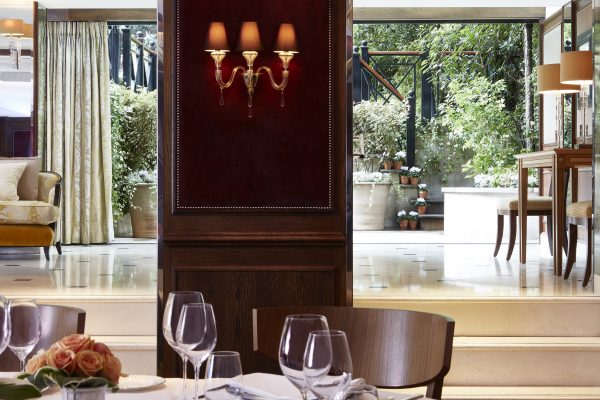 The Garden Room at the Goring