You may be familiar with the photograph (above) on my website and in occasional blogs that shows newly-weds 'jumping the broom'!
Well, somebody must have seen it, because yesterday the wedding, which included that ritual, was featured in the highly respected, award-winning, blog "Engaged and Ready". That photo, along with several others – accompanied by an article by myself, let it be said! – was published, and I received this badge as a reward!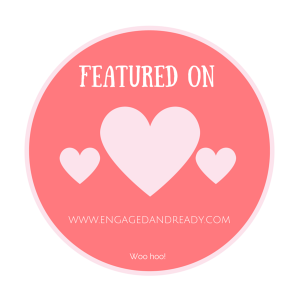 The piece was chosen because the wedding was a bit different, and getting hitched didn't go entirely without a hitch! (ugh!)
The Story
Without spoiling your suspense, the piece is worth seeing in its entirety, not least because the photos are wonderful. However, there are a couple of reasons why the wedding stood out:
The best man was (very) late
We had to fight off a persistent wasp
Quick-thinking saved the day (or the bride's dress)
The Ritual
The most eye-catching part of the ceremony was probably jumping the broom. It's a bit of fun, although there is something behind it, namely that it's a symbol which represents sweeping out the old and bringing in the new, as the couple start their new lives together. Dave and Lucy didn't want too serious a ceremony, so I had suggested this to them when we first discussed the service.
Initially, I held the broom up far too high (to see the reactions!) before lowering it right down (don't want health and safety enforcers coming down on me!). As you will see from the blog pictures, the couple entered totally into the right spirit!
It was a glorious event (despite the obstacles that arose!) and is one of the favourite celebrations I have led. Lucy and Dave were lovely to work with and, in the end, everything went perfectly.
Now that I've (I hope) whetted your appetite, you can read the whole blog at the following link: http://www.engagedandready.com/a-summery-english-barn-ceremony-with-oodles-of-personal-touches/