It's obvious from my conversations with potential clients that they have some mistaken beliefs about civil celebrants. I want to tackle a few here, and put the record straight.
Let's take three fallacies:
"All celebrants do is turn up for half an hour on the Saturday."
Not in my experience!
As far as I am concerned, on the day, I aim to arrive one hour before the ceremony. That way, I am able to liaise with relevant persons (event planner, groom, best man, bridesmaids, etc.) and check out the venue. The purpose is to ensure everything is in place and to reassure.
I then conduct the ceremony and, although available for photos straight after, I can normally depart then.
However, my work is not limited to the day itself!
After my initial meeting/call with the clients, which usually takes up to an hour, I follow up by sending a summary e-mail along with my Terms & Conditions. Assuming the client wants to work with me, I thank them and tell them when to expect my draft.
A considerable amount of work may go into the first draft. Guided by what the client has suggested, I put together a ceremony that is unique. It may be formal or relatively relaxed; serious or with bits of humour; religious, partly so, or totally secular. It may contain rituals. I may work with the couple to write their own vows, if they want this, and like to personalise the ceremony even more by including their 'story'.
So there is a lot to put together, and there will normally be an exchange of e-mails before we finish up with a product every word of which the couple approves and, hopefully, loves.
Contact with the client doesn't end there. It can be more random (especially nearing the ceremony date) and, often, there is a rehearsal to conduct.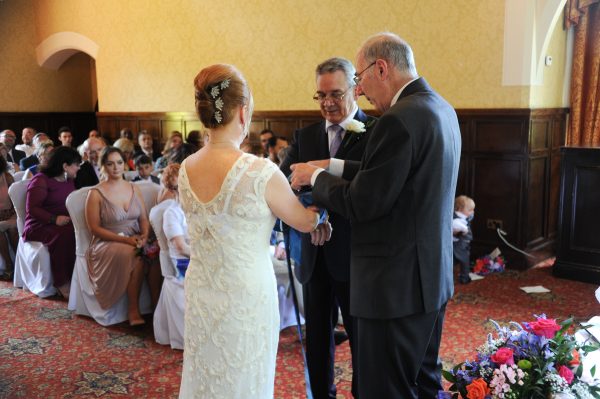 "Anyone can do it."
As you will see from the answer to the first question, there are a number of skills that come into play as part of the process of preparing a special ceremony.
Firstly, there are questioning and listening skills, especially during the initial interview. I need to be able to take clients to their ceremony in their imagination. Then we can focus on what they really want (and don't want). I offer ideas (or listen to and understand those of the clients) and make helpful suggestions.
Secondly, writing skills are essential. I don't very often write original material, but when I do, it has to fit in with the tone. Similarly, with other people's texts or poems. It takes time to choose these successfully.
Thirdly, I have to use my experience to advise what may work in practice and what may not.
Fourthly, I have to use my experience on the day to cope with, and minimise, unexpected occurrences.
Fifthly, I need to be in control on the day and keep everybody calm.
Finally, I need to deliver a wonderful ceremony. My presentation skills must be first-rate, and I need to conduct the ceremony with skill and efficiency as well as at a human level and, where appropriate, with humour.
Many people will have many of these skills, but few will have all.
"You're too expensive."
As I hope I have now shown, a professional civil celebrant has very specialised skill sets. Not many people can do such a job effectively, so there is a scarcity element.
Moreover, clients can benefit from a civil celebrant's wide experience, not only as the ceremony is put together but also on the day.
Additionally, time and travel to get to the venue need to be factored in.
On a practical note, a good civil celebrant will belong to an Association (such as the AOIC), have full indemnity insurance etc. and be fully trained. All these are expensive items, enhance the job, and deserve to be reimbursed.
I hope I have made my case successfully – and that I shall be hearing from you!