If the title sounds a bit melodramatic, don't be put off. As my blog last week will suggest (https://vowsthatwow.co.uk/?p=1629), I have nothing against destination weddings! In fact, I spoke about how wonderful they can be, if you have the right civil celebrant.
However, there can be a few other things to look out for, if the wedding is to be the success that you are dreaming of.
Guests
A lot of thought is going to have to go into deciding whom you invite. I can't advise you on that, as it obviously has to be your decision, but you will need to weigh up who absolutely has to be there (it may be the best man, parents, or whoever) and how you get them there.
Depending on where you are holding the ceremony, you will have to think about other people's budgets (unless you're lucky enough to be able to treat them to flights and/or accommodation!).
Venue
I suggest a few considerations here (remarks which might apply to any venue at all).
If you are having a theme, will the venue be suitable?
Is the venue licensed for civil ceremonies (or will you actually be marrying in a registry office before you depart, say)?
Don't forget to check if the area is big enough (but not too big!) for your party – and whether you will need to hire any equipment (audio, seating, cutlery, etc.)
Is there an in-house wedding co-ordinator – and will she be there on the day?
Can the catering arrangements all be sorted satisfactorily? Will vegetarian or gluten-free options be wanted – or even possible? Can there be a cake?
Does your package include menus, place cards, centerpieces, etc.?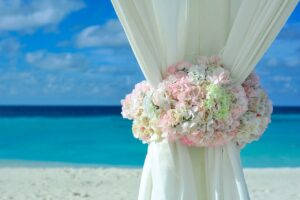 Accommodation
It is probably simpler, if you stay in the hotel where the ceremony will take place. If not, ensure you organise transportation well in advance. At all events, try and do your homework before booking.
If you have guests arriving after you, ensure they know how to reach the venue from the airport/port.
Make sure you check their requirements before booking them for at least bed and breakfast.
Before the wedding
The last thing you want is to be ill on your wedding day. Therefore:
Avoid over-indulging in alcohol, especially the day before the ceremony
Be conservative about what and how much you eat, especially the day before the wedding
Don't spend too long in the sun
Ensure you keep well-hydrated (with bottled, still water, preferably)
A Wedding Blessing?
What about those people you didn't invite or who couldn't join you in your exotic location?
A lovely possibility would be to hire a room in a restaurant or hotel near your home back in the UK, and hold a bespoke wedding blessing ceremony just for your friends and family. A civil celebrant could compile and conduct a beautiful, meaningful short service for you.
Your guests would  love having the chance to witness and participate in what is (to all intents and purposes) your marriage, and would appreciate the photo-opportunities. Knowing the legal bit is long over and done with, you would simply relax and enjoy the whole event.
That way, everybody can be happy!
Michael Gordon can help prepare and conduct a tailor-made civil ceremony in or around London or, indeed, in Europe.