Your celebrant can make or break your wedding day. Choosing the right one is therefore of paramount importance. So where do you start?
Your Ceremony
Initially, you have to decide what type of ceremony you actually want. If it's a full religious one, you will probably hold it in your own church/synagogue/temple, etc. Then it's relatively simple, as there is a formula for these services that just needs to be followed.
If you go for a register office wedding, the same holds true, and of course there will be no religious element whatsoever in the service. It may also come across as a bit bland.
To get the best of both worlds, you can combine register office (or religious service) and civil ceremony. For example, hold the (legal) wedding in the morning and then have the ceremony that actually fits with your dreams later in the day.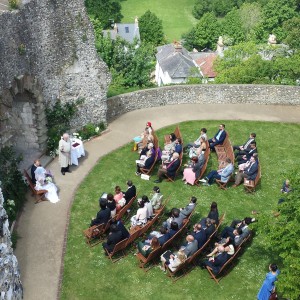 The ceremony – on the most important day of your life –  should be a deeply personal experience that reflects both your and your partner's values and style.
That's where a civil celebrant can come in. But how do you choose the right one for you?
Find your Civil Celebrant
Unless you already know of a celebrant through a referral, say, you will probably turn to Google. You may want to look under affiliated groups (eg FOIC, British Humanist Association, etc.). People listed there will have been trained and offer minimum standards (often excellent ones, in truth). Otherwise, you might key in "Civil Celebrant Harrow" and, hopefully, Vows That Wow will appear!
Check your Celebrant out
Once you've found a possibility or two, you will want to look at their website. They should have testimonials, but, possibly more important, they may have a video, which will give you an idea of the sort of person they are. You will not want to work with someone you feel uncomfortable with!
First Contact – what to ask
Having settled on someone, these are things you need to find out:
First, establish if the celebrant is free on the date you have in ind
If so, check they are prepared to travel to conduct your ceremony
Ask about legal requirements, as licensed premises have strict rules
Of course, you need a quote (although trusting and liking them should be more important)
Ask how they work – ie is there an initial meeting (where?) – and what the fee includes
Try and get a sense of their experience, enthusiasm and character
Check how flexible the ceremony may be (eg can you write your own vows?)
You may want to ask about length of ceremony (although this will very much depend on your requirements)
If you feel happy that you would like this celebrant to conduct your ceremony, then your gut feeling is probably the thing to go with. However, make sure you read and understand their Terms & Conditions; there shouldn't be any nasty surprises, especially with a bona fide professional, but it's always as well to be vigilant.
Working with a professional will be a pleasure. You will be free to enjoy the unforgettable, unique experience that is precisely what you are looking for.
Michael Gordon can help prepare and conduct a tailor-made life-cycle civil ceremony in or around London or, indeed, in Europe.