A wedding planner can ensure peace of mind, doing everything for you (at a cost). You may, however,  decide you'd rather not go down that route, so here are a few tips to bear in mind.
I'm going to confine myself to a civil celebrant-led ceremony, rather than discuss a prescribed church service or merely a registry office ceremony. If you want the full church works, then of course your priest will be able to give you all the advice you need. A registry office ceremony may well be brief but will be standardised and not personal.
First things first
Whatever you do, possibly even before you book your venue, you will need to formally give notice (together and in person) of marriage/civil partnership and book the registrar.
Registrar
An excellent plan, if you are having a civil ceremony, and wish to choose a venue that is not actually licensed for weddings, is to go down to the Registry Office (make an appointment first!) the morning or day before, in your ordinary clothes and with two witnesses. At that point you get legally married, but can then enjoy exactly the ceremony you want in the afternoon (free of anxiety). You can even sign a certificate (not legally binding) for that photo-opportunity for your guests!
However, if you are marrying in licensed premises, a registrar will still need to be present (and, therefore, pre-booked).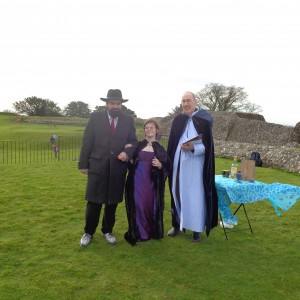 Venue
It is up to you whether you choose a licensed venue or, for example, the great outdoors, as long as you bear the above paragraph in mind. If you are planning to use private land, ensure you ask permission first!
Preliminaries
It is beyond the scope of this article to go into each element here in depth, but, depending on the scale of your ceremony, some of the things you will need to consider – in good time – are:
Dress
Catering
Guest list
Invitations
Flowers
Seating plan
Transport
Order of service booklet
Entertainment
Potential accommodation for you and/or guests
Officiant
And, not least, the content of the wedding service itself.
The Wedding Ceremony
Do you want the traditional bits? Or just some of them? Do you prefer a modern service? Do you want hymns? What music do you want? Who will participate (eg as reader(s))? Who should walk down the aisle? What about including some less orthodox rituals (handfasting, Unity candles, etc.)?
A lot of questions! But these are all things that the civil celebrant should be able to advise you on. They will construct the ceremony with you and you will approve every bit of it along the way, so that you (and, your guests) will enjoy a unique, personalised, tailor-made ceremony.
Like the sound of that? Given time, you can organise all this yourself quite successfully, save money, and still have the memorable, delightful ceremony of your dreams.