As a confirmed 'dinosaur', I'm a little wary about what I say that relates to 21st century weddings (or even 20th century ones?!), but I think the following tips may prove instructivel.
Technology
Like it or not, smartphones and computers are part of the whole wedding process, so they must be factored in. Websites can help the couple with their organisation, aid communication with guests and enable sharing of photos after the ceremony.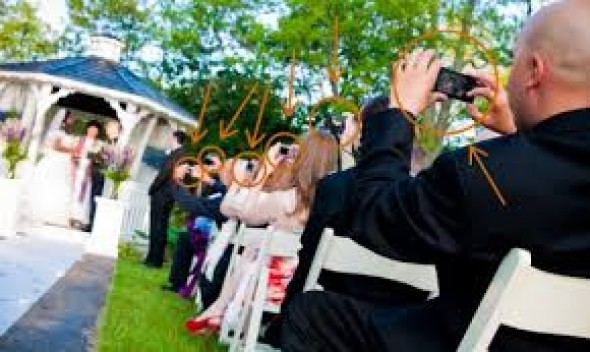 However, not every couple will want photos plastered all over Facebook before they've even had a chance to look at their own pictures. They may not like the idea of outstretched arms all over the place taking photos on phones, when they have paid a photographer good money and don't want to have arms blocking the shots. A well-considered sign at the entrance of the venue politely asking guests to refrain should be enough to deal with that issue.
The couple will surely not want ringers blaring out either. In that case, ask the celebrant to start off by requesting that mobile devices are turned to silent. If planned sufficiently well, the couple can even include a note in the invitation that they request a tech-free ceremony.
Having said that, there may be couples who actively encourage guests to share photos on social media from the word go, but, either way, it's important to communicate your wishes in advance.
Incidentally, I still believe in a hand-written 'thank you' note after the event.
Unconventional ceremonies
Of course, traditionally, weddings used to be mostly religious, and many – though fewer – people still go down that route. However, increasing numbers are choosing a personalised civil ceremony. I believe that some of these can be the most beautiful and meaningful ceremonies, but, when you are a guest, they may not be your 'cup of tea'.
If you have accepted an invitation, you presumably have an inkling of the style of the wedding. Even if you don't, the fact that you have accepted to come means that you should not criticise or show displeasure. If that's how the couple want to conduct their big day, then you should respect it. (And if you go with the flow, you may even acknowledge that the ceremony is not that bad after all!)
The same may apply to the décor, venue, music, rituals and readings. Accept and enjoy!
Gifts
Wedding lists (or registries) are a useful way of ensuring the couple receive what they want by way of gifts. You can go online, once you've received the link from the couple, and order whatever you choose, and this item is then automatically unavailable to anyone else.
If it's an older couple who are marrying, they may already have all that they need. However, they may be happy to receive money. Some financial institutions offer mobile cheque deposit through their banking app. (That way, the couple may be able to pay for wedding outgoings without having to over-extend themselves.)
Nowadays some people will be looking for contributions to their honeymoon fund.
Reducing expense
Incidentally, by using a rewards card for those expenses or even the honeymoon, the couple may get back quite a lot of money – or value – which is a good bonus.
Major milestones are not being celebrated as they were fifty – or even twenty – years ago. Even 'dinosaurs' need to adapt to the times and use technology for everybody's benefit – while always acknowledging the continuing need for dignity and respect at these big occasions.
Michael Gordon can help prepare and conduct a tailor-made civil ceremony in or around London or, indeed, in Europe.