Misunderstandings can be quite damaging. My job as civil ceremony creator and conductor is certainly open to misconceptions.
I was vividly reminded of this a few days ago.
The wrong message
At a recent wedding fair, I had thought that I was getting through to people as I explained to them what a civil celebrant did and what a difference someone like me could make at a major lifetime event.
Then, three consecutive couples who were looking for a civil ceremony said to me, "Oh no, we can't use you because we've already booked registrars."
Unfortunately, they had missed the point entirely.
The registrars do the legal bit. They ensure you get the piece of paper that makes your marriage legitimate. The service that accompanies the certificate signing does not have to be the be all and end all of the occasion, although you can settle for that, if you wish.
To give your event an individual stamp, afterwards, you can have an add-on ceremony that actually means something to you and your guests; one that will create memories that last the rest of your life – both for you and for your guests.
The process
When planning the ceremony, a good civil celebrant will consult with, and listen to, you, so as to understand exactly what you may want. He will advise and guide you, as well as offer ideas, if you need any.
Then the celebrant will compile a draft and e-mail it to you. You will be invited to check it carefully, not just for any errors but also in case any of the readings (say) don't work for you. Following your suggestions, the celebrant will make the relevant changes, and, after a couple more e-mail exchanges, you may virtually be there.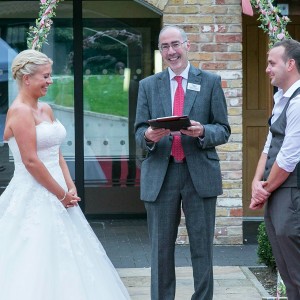 The ceremony, then, will reflect your personality, your beliefs and be everything you want it to be.
Every word will have been approved by you. Assuming that your celebrant has decent presentation skills, you will have a tailor-made, unique service that will be the ceremony of your dreams!
That's something really wonderful.
And I think it was worth setting the record straight, don't you?