Celebrating a big event? Something special? Would you consider a quirky ceremony?
Surely a wedding or something needs to be religious? Or conventional, at least?
Of course, it can be. But that's not to say that it can't be a quirky ceremony. (Or partly quirky!)
After all, it's your day, so you don't have to be beholden to what other people think or expect.
I'm not suggesting that you should be tasteless or offensive – but you can be different. There is huge scope for creativity. It doesn't take so much effort to come up with a memorable, meaningful and beautiful ceremony. And for all the help you will need, a civil celebrant can be there, with ideas and guidance. They are professionals and can really point you in the right direction.
So what do we mean by "quirky"?
The venue can be anywhere (subject to permission and possible payment!). I've conducted ceremonies at Stonehenge, by a canal, at the Savoy, atop an Iron Age fort, in a back garden, in a field – and the list goes on! You are only limited by your imagination (and purse)!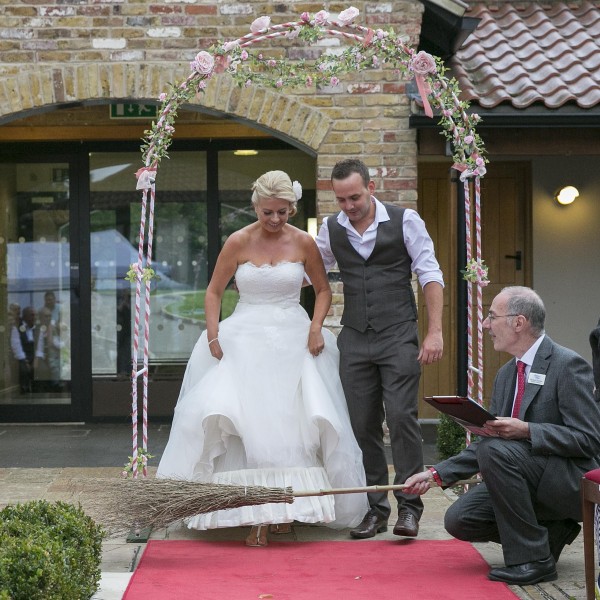 Rituals
Part of the ceremony can be something a little offbeat. You've probably read about handfastings in my blogs (eg https://vowsthatwow.co.uk/handfasting-whats-that/). That might appeal.
A ritual that brings a smile to a wedding is "Jumping the Broom". The couple together jump over a besom (accompanied by appropriate words) to symbolise sweeping in the new.
You may opt for a rose ceremony. Or there's the Unity Sand option, which is lovely. Both partners simultaneously pour sand in the colour of their individual choice into one larger bottle, so that the colours merge, just as their lives will.
Readings & Music
The content of the ceremony is 'up for grabs' too. The tone is up to you. There is no compulsion to include heavy, serious readings, if you don't want them. Why not have a humorous poem or text, or even several?
Choose who will read – or even sing – for you.
Similarly, while there's absolutely nothing wrong with having a serious, classical piece played, your tastes may actually be rather different. So by all means let the music reflect these.
Your story, your vows
Personally, I welcome the opportunity to make ceremonies that I conduct as personal as possible. I believe the guests enjoy and appreciate this a lot too.
One feature I like to include, therefore, is what I call the couple's "story". In the case of a wedding, it might be how they met, adversity they had to overcome, and what attracted them to each other.
Another way they can personalise their ceremony is to write and declare their own vows. For a Vow Renewal, maybe the couple would rewrite their vows, or prepare something about key moments in their relationship.
Although I'm always there to guide and advise, I think it's best if the couple actually write this part themselves, if possible.
So I hope you now see that there's nothing wrong with individualising your ceremonies – indeed, this can often make all the difference to the proceedings.
Go quirky!