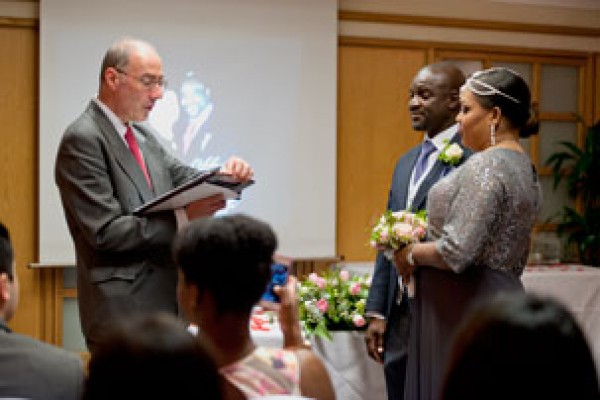 A number of people have challenged me recently: why consider a Vow Renewal?
I could answer: "because I'm a civil celebrant and I like them", but I'm not sure that that's the right sort of response!
Here are some other (hopefully, more compelling!) reasons.
Why renew vows?
34% of marriages end in divorce and 33% of them end before 10 years, so there's every reason to celebrate staying together. People often look at 10, 15, or other multiples of 5 years as good reasons to celebrate.
You don't need to renew your marriage just because there's a five or zero at the end of your anniversary. People renew vows at significant moments in their lives (the birth of a baby, coming out the other side of a difficult marital patch or illness, or maybe because family and friends missed the original wedding, because it took place abroad).
What is a Vow Renewal ceremony?
Of course, the ceremony is a public declaration of love between two people. It can be in front of 200 people, or it can be a tiny, informal affair for just a handful of guests. The venue can be virtually anywhere and you have total control over how big – or small – any reception may be.
The Vow Renewal ceremonies I conduct tend to last around a quarter of an hour, although I am happy to fit in with whatever my clients request. There  may be religious content or not, or a mixture. I suggest readings and poems (and, where required, prayers) that are beautiful, meaningful and memorable. However, they are all subject to the clients' wishes.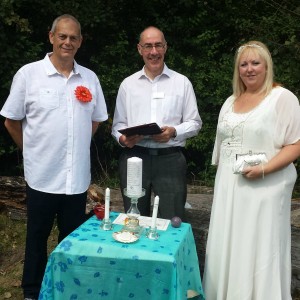 Vows
A central point is usually the vows themselves.  These can be written by the couple, and are often very moving. I always offer guidance on writing these, as many people find the prospect daunting. If they prefer it, I can suggest vows for them.
Quite often, people want their rings blessed, which is potentially a very beautiful part of the ceremony.
Check list
You'll need to consider the following when planning your Vow Renewal:
Venue: you don't need to be restricted (except by budget and legality!). So you can have the ceremony in your garden, at the top of the London Eye, in a luxurious hotel, in a park or on a bridge. Or maybe at the place where you originally tied the knot.
Invitations: you can invite whoever you want to participate in the ceremony. Maybe you have children – why not invite them to take part? The size of the guest-list is entirely down to you.
Dress: again, up to you (although make sure you communicate your preferences to your celebrant and guests, to avoid potential embarrassment!)
Music: you may want to use the music that you heard at your wedding; you may want a relative (preferably with a great voice!) to do a solo; you may want to play a tune that means something very special to you both – again, the choice is all yours.
Photographer: you'll want to capture the moment for posterity, so give some thought to hiring a good photographer (see my dedicated  blog )
Catering: even if you're having a modest ceremony, some champagne (or equivalent) and a snack go will down well afterwards.
Other possibilities, like dancing, may be taken into consideration too.
The Beauty of Freedom
The joy of a Vow Renewal is that you have such freedom to arrange the ceremony that you want. You can tell the world that you love your spouse and your spouse loves you. You don't have to wait fifty years – you can do it when you're ready. You can spend as much or as little as you want. You can involve whoever you want. It's such a happy event.
I hope I've convinced you now.
Why not do it?